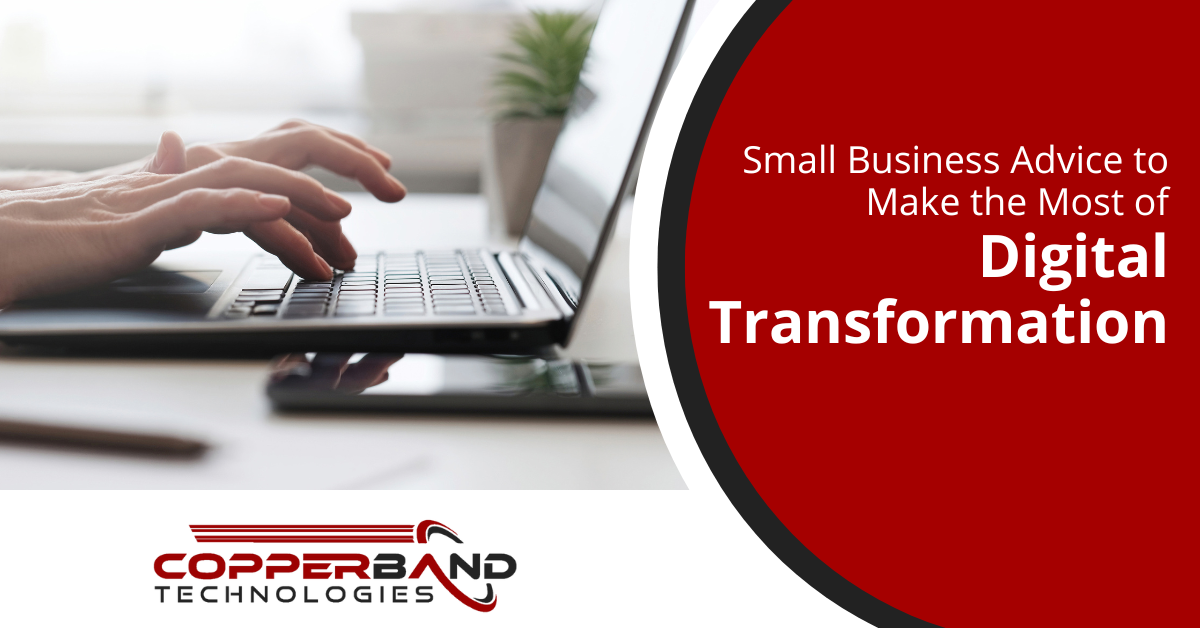 Businesses around the world are experiencing the absolute power of digital transformation and are currently monopolizing the market. As a result, in a bid not to be left out, small businesses have come to face the undeniable realities that they will be open to a world of tremendous opportunities by harnessing the power of digital transformation and making the most out of it.
According to a survey on Small Business Digital Transformation, small businesses engaged in digital transformation saw vast revenue growth as opposed to those without digital efforts. Since then, small businesses have been seen maximizing the potential of digital transformation by modernizing company models, optimizing internal processes, and setting up new value chains.
Digital transformation is the modification from analog to digital and the introduction of new, efficient tools into business models. This technological change reconstructs business image and customer appeal. However, going digital comes with its obstacles, but a well-formed strategy could serve as a gold mine to help your small business make the most of digital transformation.
A report by Forbes shows that 70% of companies have either set up a digital transformation strategy, have tips they follow to ensure it works out, or are working on one with various managed IT experts. Therefore, for small businesses, seizing the potential of digital transformation is paramount for survival and sustainable success. This article will highlight some advice small businesses need to make the most of digital transformation.
How small businesses can manage digital transformation
Below are some tips and advice for small businesses to harness the power of opportunities in digital transformation and make the most of it.
1. Conduct an internal assessment
Conduct an in-depth assessment of your business lapses and errors, focusing on where you want to see change. Ensure the involvement of members of staff during the assessment. List the most important issues on a scale of relevance from top to bottom.
In all probability, you may have various crucial issues that your business is undergoing presently, as well as some less important problems. Enlist the use of the free assessment tools online to ascertain your business level of digitalization to enable digital maturity and potential improvement.
2. Prioritize your plan
Subsequently, after the internal assessment, discuss the crucial problems your business faces with your staff and how technology will help resolve them. The introduction of technology is a tactical stride toward digital transformation.
At first, an attempt to bring in new technological concepts may be met with resistance if it does not align with what customers want and believe. This occurs when small businesses prioritize multiple technologies rather than integrating change management into their business plan.
The power of digital technologies is not in the technology itself but in how you use it to better your business operations and work.
3. Analyze your data
Data analysis can assist you in understanding how customers find you, what they buy or don't buy, when and how they shop, what device they use to shop, and so on. Then you can uncover client tendencies and tailor your marketing and sales strategies accordingly.
In developing a digital transformation strategy, many small businesses rely on their chosen technology before analyzing their data. Rather than depending on previous experiences and analysis, small businesses must be able to question their present status by gaining insights from current, updated data.
4. Embrace the power of artificial intelligence
The power of artificial intelligence in restructuring and improving how your small business runs cannot be overemphasized. AI transforms your small business. With the adoption of digital transformation, AI technologies become a personal assistant, as it works hand in hand with assisting in automating operations, gaining relevant insights from data, and proffering solutions to errors in your small business. This results in increased productivity, operations, and customer satisfaction.
5. Invest in cybersecurity
To make the most out of digital transformation for your business, cybersecurity should not be overlooked or downplayed. It is important to note that small businesses are often the targets of cyber-attacks and threats due to their perceived vulnerability.
Therefore, invest in a robust cybersecurity plan that protects your sensitive data, customer information, and online transactions adequately. Implement firewalls, encryption, antivirus solution, and secure authentication protocols (MFA and 2FA). Also, train your employees on cybersecurity best practices, such as the CISA Cybersecurity Performance Goals, and the latest cyber-attack trends to prevent breaches caused by human error.
By doing this, you are safeguarding your business's reputation while making the most of digital transformation.
6. Leverage mobile technology
With the widespread use of smartphones and tablets, mobile technology has become integral to digital transformation. Ensure you have a responsive, mobile-friendly website that can provide a seamless user experience across different devices.
It is important to note that mobile technology enables small businesses to stay connected with their audience and capitalize on the growing mobile market. Therefore, ensure you have a mobile app that enhances customer engagement and convenience.
7. Assign roles and responsibilities to your employees and foster collaborations and partnerships
Digital transformation is not a one-person business or a solitary journey. Creating dedicated teams to carry out a digital transformation with you and your business is highly advisable. Also, your business will benefit greatly by collaborating with other businesses, industry experts, and technology providers.
Seek opportunities for partnerships that can enhance your digital capabilities, share resources, and access new markets. Collaborate with influencers and online communities to amplify your brand's reach and credibility. Engage in industry events, webinars, and forums to network and stay updated on the latest trends and best practices.
Working alone tends to hinder modernization and prevent focus. Therefore, involving your employees in the process will ensure that your small business's digital transformation strategy meets your desired goal.
8. Continuously adapt and innovate
Digital transformation is an ongoing process, therefore, don't think of stopping. Embrace a mindset of continuous adaptation and innovation. Stay agile and up-to-date with technological changes, market dynamics, and customer expectations. Regularly evaluate your digital strategies and make necessary adjustments to stay ahead of the competition.
Also, cultivate a habit of encouraging your employees to generate new ideas and experiment with emerging technologies.
Let Copperband Technologies Be Your IT Partner in This Digital Transformation Journey
Partnering with a reputable managed IT service provider might be a game changer as you embark on a digital transformation path. Copperband Technologies possess vast experience in digital transformations tailored for Southern Kentucky and Middle Tennessee businesses.
Contact us for more insights on your small business's digital transformation.
https://copperbandtech.com/wp-content/uploads/2023/08/resized-Small-Business-Advice.png
630
1200
Sarah Jones
https://copperbandtech.com/wp-content/uploads/2020/08/header-logo-1-1.png
Sarah Jones
2023-08-07 17:00:12
2023-08-07 17:00:56
Small Business Advice to Make the Most of Digital Transformation