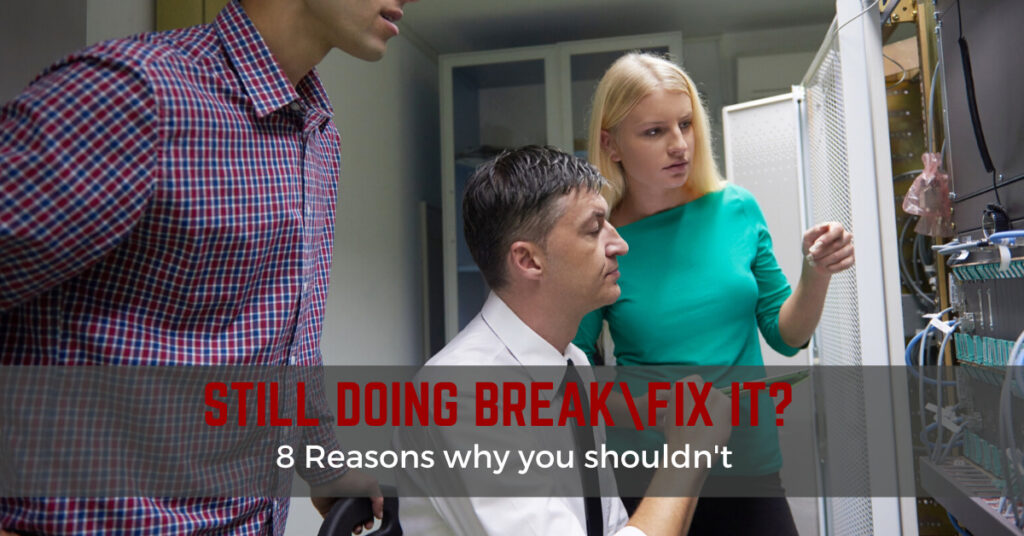 IT is the beating heart of your company. It keeps your employees productive, allows you to communicate effectively with your clients, and makes it easy to quickly lookup cat videos on the internet, on your break, of course. In times past, the Break-Fix IT model was the way to go, especially if you couldn't afford a full time IT staff, onsite. The concept was simple; something breaks, you call for help, it gets fixed! But does it? What happens long term? Most business models aren't simply a computer or two with a printer anymore; they are an interconnected network of Wi-Fi, file shares, productivity platforms, and cloud services. More and more businesses are taking a closer look at hiring managed service providers. Let's take a look at why the break-fix model might not be the best fit for your business anymore, either.
8 Reasons Why Break-Fix IT Support is Bad For Your Business
1. Unpredictable Cost
The unexpected is part of life, but it's a hard thing to budget for. With managed services, you have a predictable, monthly recurring cost that covers ordinary support as well as the occasional emergent situation. The break-fix model, however, is an unanticipated cost, every time. A difficult thing to budget for at best, a blow to your yearly profit margin at worst.
2. No IT Strategy
If you rely on break-fix IT support, it's tough to approach IT maintenance in a strategic way. IT is a very crucial department of any business, even when it's not an actual department. The break-fix model can come in and save the day, but what happens in the long term? What happens if you keep paying for the same type of repair, over and over again.
3. Irregular Service Times
You never know when an emergency is going to strike. And while your managed service provider can't predict the future either, their business model keeps them better positioned to provide the assistance you need, when you need it. And while break-fix IT might sound like a tempting call to make, who knows how far down their call queue you'll be. Since they function only on demand, they do not expect your call for help and may not be well placed to receive it.
4. Zero Prevention Strategy
As the saying goes, an ounce of prevention is worth a pound of cure. Unfortunately, this is not something break-fix IT businesses relate themselves with. After all, they're only working when you're not. They aren't around before or after the service call. What about preventative maintenance, to reduce potential downtime and help stop many problems before they happen?
5. Not a Proactive Approach
To make sure the IT department is firing on all cylinders, you will require your service providers to have a proactive approach. You shouldn't be caring much about your IT department. There are many other business operations you need to focus on. But when you hire a break-fix IT support, you do not get the advantage of a proactive approach that does not let the IT department affect your productivity. When you go for a managed service provider, we will take care of all the updates, system install, and complete maintenance of your network.
6. Lack of Network Familiarity
When you're critically down, time is of the essence. Sure, break-fix IT technicians might be able to get onsite quickly, but once there, they will still require time to familiarize themselves with your business, your network, and your needs. The time which is already ticking by while your business can't function.
7. Doesn't Include Monitoring
Stopping a problem before it starts, takes a little bit of effort and a whole lot of monitoring. Monitoring the likes of which break-fix IT does not provide. They don't focus on tracking the network's performance as their only job is to find the problem and solve the issue as quickly as possible.
8. Your Productivity Suffers
From the moment your network goes down, until the moment a break-fix IT technician finally makes it onsite, learns your system, begins the repair, and finally finishes it, you're losing money. Not just because of the IT bill you're going to receive, but because your business can't provide its services to your customers.
Wrapping Up
2020 has been a year of change and a year of firsts, and maybe it's time for your business to make a change. Break-fix IT is a costly, unpredictable, and short-term solution, at best. Managed service providers like Copperband Technologies are rising to fill the gaps left by break-fix providers and help provide stability and functionality to your business needs. Have questions? Give us a call at 931-263-8000 or email us at [email protected]. We would love to hear from you!
https://copperbandtech.com/wp-content/uploads/2020/07/STILL-DOING-BREAK_FIX-IT_-1024x536-1.jpg
536
1024
copper_admin
https://copperbandtech.com/wp-content/uploads/2020/08/header-logo-1-1.png
copper_admin
2020-07-09 08:44:00
2020-08-22 19:42:31
8 Reasons Why Break-Fix IT Might Not be the Best Fit