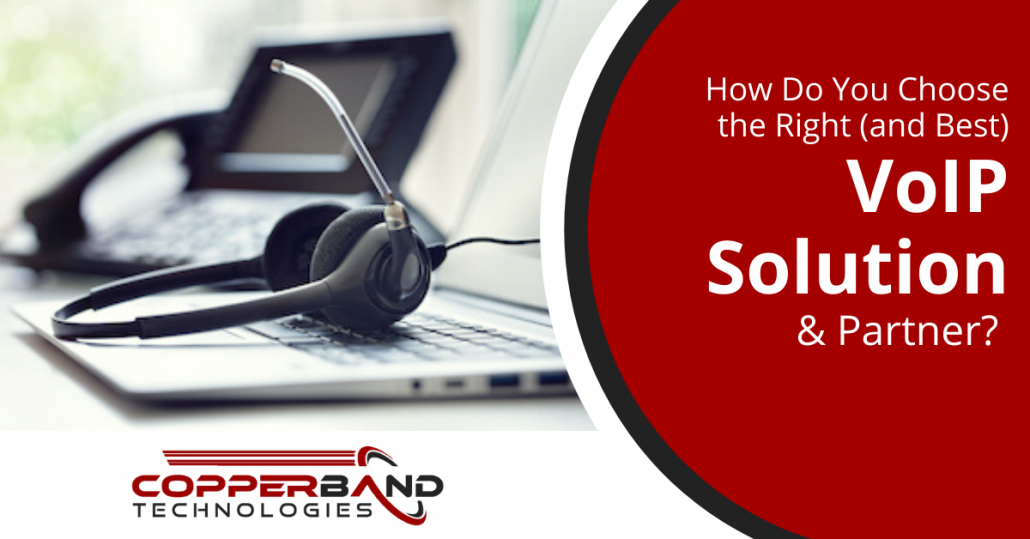 The tide has definitely turned when it comes to legacy, landline-based phone systems. One lesson that many businesses learned from the pandemic shutdowns is that those older phone systems are cumbersome and not designed for running a business remotely. VoIP cloud based phone systems not only offer significant cost savings, but they also make your phone system and all its features available from any location. No matter what happens, you get your calls and your staff can connect with customers and each other. VoIP saves companies approximately 75% on operational costs over traditional landline-based phones.
If you've decided that it's time to switch to a cloud-based phone system, how do you find the best one? There are multiple choices out there for both solutions and providers that it can be confusing to know how to measure one against another. Any type of business change project, like a switch to VoIP, is a major transition, so you don't want to have to go through it again after a few months if you've chosen the wrong solution. Below are several factors to consider when choosing the best VoIP provider for your business phone system.
Factors to Consider When Choosing a VoIP Provider
If you just do a simple Google search and pick the first cloud-based phone provider that comes up, thinking "they're all basically the same," you could end up having problems and not getting the support you need. Just like any other vendor or supplier you work with, you want to ensure you're choosing a reliable VoIP solution and provider, so you're not sorry later. Here are some considerations to keep in mind when comparing one VoIP provider to another.
Quality of the Solution
Not all services are created equally. You want to ensure the VoIP solution you choose is hosted with a quality partner that's going to ensure uptime and call quality. This is one area that Copperband technologies takes very seriously with the VoIP solution we offer. It's hosted on cloud systems that are designed for enterprise-class service and quality.
Accessibility When You Need Help
If you're working with a large national chain, you may not get the personal help you need with your phone system. What if you want someone to visit your office to help with a training? If you've chosen the wrong partner, that's not going to be something they offer. The benefit of having a local provider, like Copperband, is that we know you, we know the community, and we're there when you need us for any questions or to train your team. You have someone that has your back, that's in the local vicinity.
Client Commitment
When you're working with a larger VoIP provider, you're just one of many customers coming and going through their revolving door. They factor in that some clients will stay, and others will go, and it's more of a numbers game than anything else. Copperband truly cares about each and every VoIP customer we serve. You're not just "another signup," to us. We take the time to get to know you, know your needs, help you setup and personally customize your phone system, and are committed to making your company better through technology.
How Fast Can You Get Help?
Will you just be another number in a call queue when trying to get help with your VoIP system? Do you even have the ability to talk to anyone in person? Some VoIP providers limit how you can contact them, some restrict customer service to chat or online tickets only. That can be frustrating when you need help fast and want to speak with an actual person. We make customer support effortless, giving you multiple ways to contact us, including by phone. You won't have frustrating wait times or be limited in how you can reach us.
Are Phone System Features Explained?
The features you get with your VoIP system are important. Some providers may not offer things you feel should be standard. It's important to not only look at the features in a brochure, but also ask your provider directly to go over features with you so you know how to use them. Some VoIP solution providers just send you a link to a webpage and expect you to figure it all out yourself, so you can end up missing out on features that could make your phone system better because you weren't taught how to use them. We're not just going to leave you on your own when it comes to features and system setup. We'll go over all features with you in detail and tell you how to use them to improve caller experience.
Get Your VoIP Service from a Trusted Local Partner!
Don't be just "another number" with a non-local VoIP service. Copperband Technologies is a member of your community and you can trust us to be here whenever you need us. Contact us today to schedule a VoIP consultation! Call 931.263.8000
https://copperbandtech.com/wp-content/uploads/2020/08/How-Do-You-Choose-the-Right-and-Best-VoIP-Solution-blog-post-1.jpg
240
360
copper_admin
https://copperbandtech.com/wp-content/uploads/2020/08/header-logo-1-1.png
copper_admin
2020-08-10 08:00:00
2023-03-29 15:59:15
How Do You Choose the Right VoIP Solution & Partner