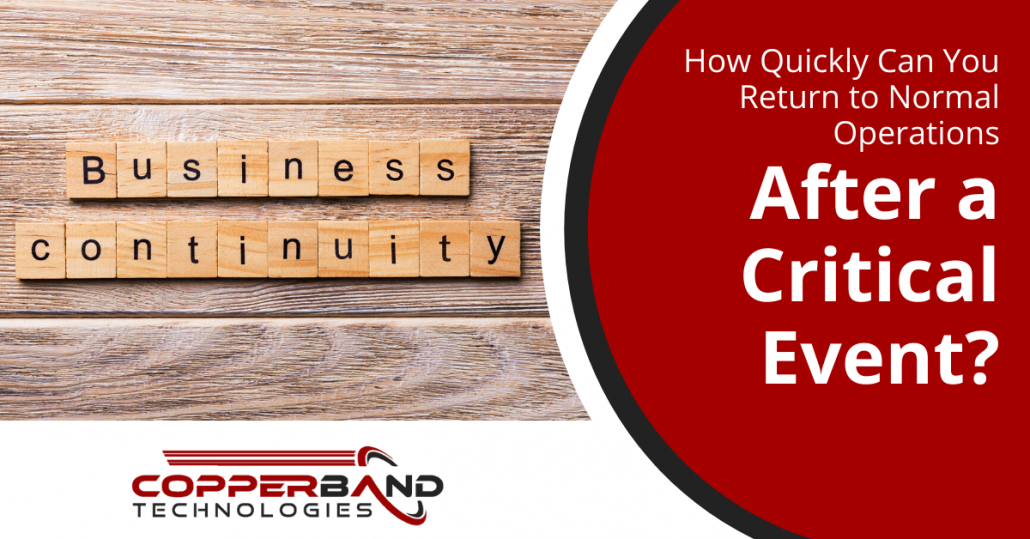 From unexpected storms and tornadoes to major hard drive crashes or pandemic shutdowns, today's world includes any number of critical events that can put your business out of operation. While some events, like data breaches, can be mitigated with best data security practices in place, others like natural disasters or mandated closures can't, which is why businesses need to develop a business continuity strategy. Business continuity is just as important as backup and disaster recovery (which is one piece of a business continuity plan).
The faster you can get back up and running after a critical event happens, the fewer losses you have. The average cost of downtime to businesses is $5,600 per minute, and 98% of organizations say just one hour of downtime costs them over $100,000. With the costs so high for any type of downtime incident, it's surprising that more companies don't have a business continuity plan in place. According to a survey of SMBs, 39% don't have any incident response plan after a cybersecurity event. Reasons that companies give for not putting a business continuity plan in place are:
They don't have time
They're not sure why they need one
They don't know how to start
They don't have it in their budget
There are several businesses in Middle Tennessee or Southern Kentucky that would put together a business continuity plan if they only had a roadmap to help.
Your Roadmap to Building a Business Continuity Plan
Business continuity planning is all about keeping your business going in the event of unexpected or unavoidable circumstances. It includes both incident mitigation to prevent a work-stopping event as well as a recovery plan to get your operations back up and running as fast as possible if one occurs. These steps can help you get started with planning or updating your business continuity strategy.
Identify Dangers to Your Business
Before you can go into mitigation and recovery strategies, you need to identify what could be a danger to your business operations. This is somewhat like playing a game of "worst case scenario" to figure out what could possibly go wrong. Some of the standard critical incident scenarios include:
Data breach
Malware attack
Insider attack (either from a rogue employee or hacked credentials)
Natural or manmade disaster
Mandated shutdowns (e.g. due to pandemic)
Theft or break-in
Major system crash
Data loss incident
Short-term events, like snowstorm or power outage
Put Mitigation Plans in Place
Some of the dangers that you've identified, there are things you can do to help prevent them. For example, anything cybersecurity related, you can put IT security tools and standards in place to help prevent those incidents. For things like hard drive or system crashes, you could use managed IT services to keep equipment proactively maintained. You'll want to do whatever you can to reduce your risk for as many dangers as possible
Create Recovery Strategies
You're not going to be able to mitigate every potential critical work stopping event, so your next step is to create your strategies for recovery once one occurs. For example, you may have a "remote work action plan" that your employees are trained on. If anything causes you not to be able to work from the office, your employees already have the cloud tools and knowledge of what to do to get your business running remotely from their homes as fast as possible. Business Continuity and recovery strategies will include things like:
Data backup and recovery
Cloud solutions that keep everyone connected
VoIP phone system
Physical contact sheet for all your vendors (so you can contact them if you can't get on your computer)
Partnering with a competitor on facility sharing if one or the other loses theirs in a disaster
Put Needed Technology Tools in Place
Once you identify your mitigation and recovery strategies, you'll need to prioritize which to put in place first. Most businesses aren't going to be able to budget everything they might need all at once, so you'll want to lay out a plan to put the most important pieces in place first, and work your way through the list. These will be things like cybersecurity tools, cloud software, and potentially additional hardware.
Partner with a Trusted IT Provider
When you're in the middle of a crisis that has your business and technology down is not the time you want to start a new relationship with an IT provider. It's much better to have someone in place that you already work with and that knows your business IT like the back of their hand. An IT provider, like Copperband Technologies, can help you put together a comprehensive and affordable business continuity plan. We will be there in an emergency to help you get back up and running quickly.
Get Help Protecting Your Business from the Unknown
If 2020 has taught us anything, it's that you need to be ready for anything if you want to keep your business profitable. Copperband Technologies can be your trusted partner that helps you prepare for and rebound from any critical events that may come your way. Contact us today to schedule a free consultation! Call 931.263.8000
https://copperbandtech.com/wp-content/uploads/2020/08/How-Quickly-Can-You-Return-to-Normal-Operations-blog-post-scaled.jpg
1707
2560
copper_admin
https://copperbandtech.com/wp-content/uploads/2020/08/header-logo-1-1.png
copper_admin
2020-08-17 08:00:00
2023-03-02 11:52:35
Business Continuity: Return to Normal Operations After a Critical Event?