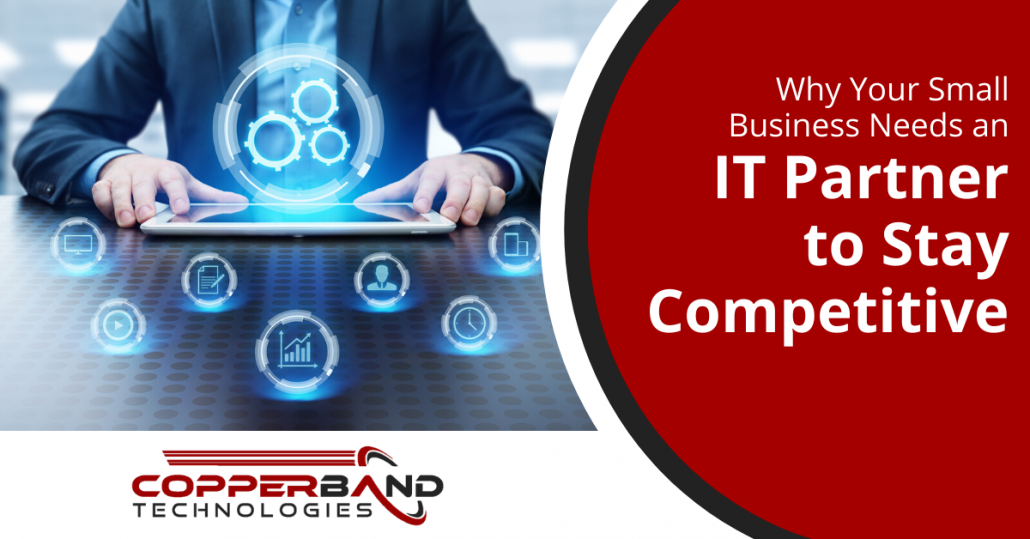 Technology has leveled the playing field for a lot of small and medium-sized businesses. Thanks to cloud platforms, they can now have phone systems with all the bells & whistles of large enterprise systems, but for much less cost. Automations between programs have also reduced manual entry, improving overall workflows and productivity. But, in order to benefit from business technology and stay competitive, Kentucky & Tennessee businesses need it to both be running smoothly without any problems or security incidents, and continually optimize as it evolves. Those that don't have an IT Partner to help with technology can and up with problems like:
Malware or virus infections
Being susceptible to ransomware
Cloud app overload (too many unneeded apps)
Software that doesn't communicate or share data
Missing out on application features they're paying for but don't know about
Spending too much time fixing IT issues instead of running their business
Master your technology and work with a trusted IT partner to keep it running effectively, and you can stay one step ahead of your competitors.
Benefits of Optimizing Your Technology
Here are just a few of the benefits that small businesses report when they've optimized their technology and digital tools:
38% cited increased sales and revenue
30% say they've been able to access new customers
69% report improved employee satisfaction
With all those benefits, why do a majority of small businesses miss the boat when it comes to their technology? Some reasons they state for technology challenges are:
They don't have enough experience with digital tools
Staff has inadequate IT skills
They're using older systems and having a hard time adopting newer ones
They don't have any time to learn digital tools
How an IT Partner Can Improve Your Technology & Your Business
Trying to run your business without an IT professional to handle your technology is like chartering a large ship without a captain that knows how to sail it. You're left fending for yourself, at times in dangerous waters, without an expert to guide you. An IT partner is more than just someone that "fixes computers," they're an expert navigator in the technology world and can help you make the most of it to drive your business forward. Here are some reasons it's important to have one by your side.
Keeps Your Network & Data Secure from Breaches
In 2019, cybersecurity incidents/breaches at small businesses increased over 5X from the prior year. Many small business owners think they're "too small to be a target," but when it comes to hackers, they're just as happy to breach a small business as a larger one. Small businesses account for 43% of all cyberattacks. IT professionals, like Copperband Technologies, are experts when it comes to cybersecurity. We know all the routes hackers take to get in (phishing, Wi-Fi, credential theft) and can ensure your business is protected and your network monitored for any signs of trouble.
Saves You Money on Cloud Subscriptions
Many small businesses adopted cloud services one-by-one but didn't actually have an overall cloud game plan. That and the use of apps by employees on their own without getting them cleared first have led to cloud subscription costs ballooning. An IT partner can help you take a look at all the apps being used by your staff and weed out any unneeded subscriptions, like those that are duplicating features another already has. This both saves you money and makes your cloud use much more effective.
Reduces Downtime & IT Problems
When your technology is down, it often means you're cut off from customers or can't get critical work done. Downtime can cost a small business as much as $10,000 per hour. Working with an IT partner can mitigate downtime and IT issues in two important ways:
Ongoing Maintenance & Monitoring: Using managed IT services keeps your equipment maintained and monitored regularly, catching any potential problems before they can result in downtime.
Fast Support from Someone That Knows Your IT: If you have any unexpected IT issues, you won't be starting from scratch trying to find an IT shop to help. If you already have an IT partner relationship, they'll know you and your tech and be able to respond and resolve faster than someone brand new to your business.
Staff Support & Training
Is there one person in your office that everyone goes to when they have an IT question? Not only is that person most likely being overwhelmed because they're trying to get their own work done, they also aren't a certified IT technician, so can only help so much. An IT partner can ensure your staff has the support they need when they have any technology questions on hardware or software. We can also put a cybersecurity training plan in place to boost your user awareness and reduce your risk of being a victim of a phishing attack or compliance breach.
Get a Trusted IT Partner to Guide You
Copperband Technologies can be your expert navigator in all things dealing with technology. Keeping you competitive, secure, and helping you optimize to lower costs. Contact us today to schedule a consultation! Call 931.263.8000
https://copperbandtech.com/wp-content/uploads/2020/08/Why-Your-Small-Business-Needs-an-IT-Partner-to-Stay-blog-post.jpg
960
1600
copper_admin
https://copperbandtech.com/wp-content/uploads/2020/08/header-logo-1-1.png
copper_admin
2020-08-24 08:00:00
2020-08-22 21:05:41
Why Your Small Business Needs an IT Partner.