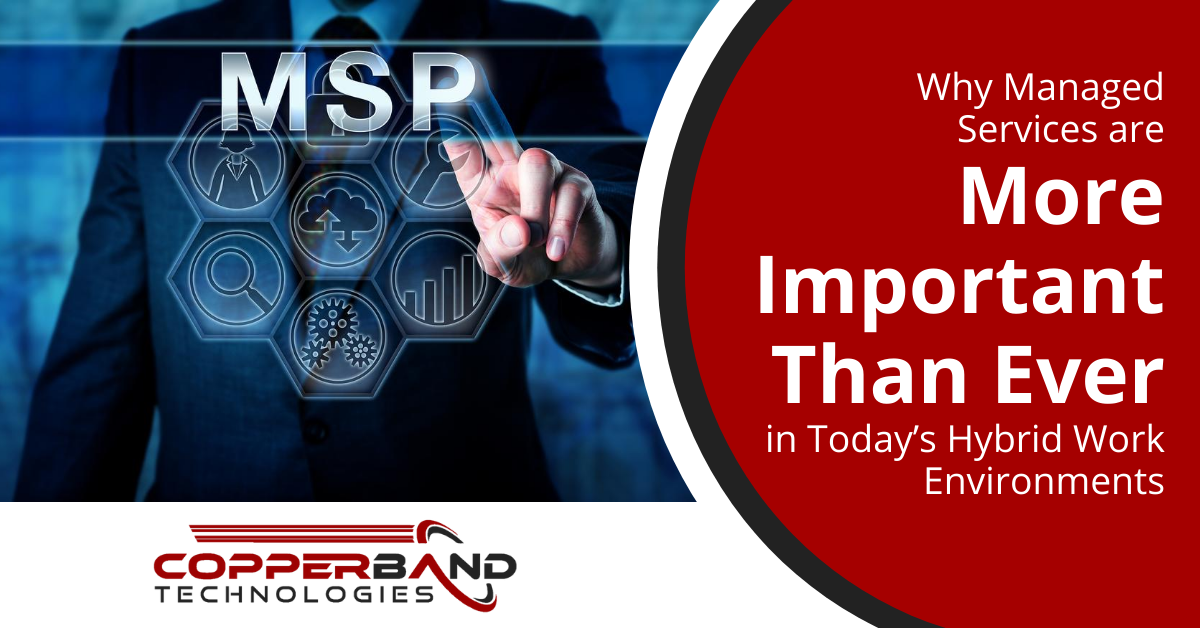 One of the legacies of the pandemic is the evolution of the typical work environment into a hybrid of traditional office and work-from-home (WFH). It's estimated that as many as 81% of employees that had the capability were working from home during the midst of the pandemic lockdowns. And once the pandemic is over, 41% of employees are expected to continue working remotely, at least part of the time. Many Tennessee and Kentucky businesses did not have a plan in place before they were forced to adjust to operating their business virtually. However, many have found that a WFH arrangement improves productivity while reducing costs. Having some employees continue to work remotely is also a smart safety net to ensure any future crisis can be handled quickly, with the framework already in place. It's one thing to have employees work from home, though, and quite another to include remote workers and their devices in with your entire business IT strategy for service and support. That's one last piece of the WFH puzzle and it's where we can help.
How to Keep All Devices Secure & Efficient
When you have some computers staying on premises, some staying at employee homes, and others traveling between the two, security and management gets more challenging. One way to ensure all devices, and the data they hold, are well taken care of is to use managed IT services. What managed IT does is create one, cohesive strategy for monitoring and managing all devices used to store, transmit, and access business data. This removes unnecessary risks and helps ensure your hybrid environment has a consistent support structure. There are several reasons why managed IT services are more important now than ever and can help you transition successfully to an office/WFH business model.
Protects All Devices in Several Ways
One of the dangers with remote workers is that they may be using devices that don't have a reliable antivirus software or aren't kept properly updated with security patches. Both in-office and at-home devices need to be secured to protect your network from a breach or malware infection. This is all handled remotely with managed IT services. We offer managed antivirus/anti-malware, managed patch updates, and keep systems monitored for any suspicious activities.
Provides User Support to Boost Productivity
When employees are working from home, they can easily feel like they're out on an island by themselves, left to struggle with computer and software problems because they're not at the office. Managed IT support gives users the vital technical backup they need to get fast remote support for an issue or ask questions. This keeps them from wasting precious time with an IT issue and helps them be more productive.
Devices Stay Maintained & Optimized
When you have a hybrid working environment, you can also have many different types of devices being used by employees. They may use a workstation when at the office and a laptop while at home. Keeping all those devices maintained and optimized directly impacts your equipment costs and bottom line. If employees are on sluggish systems, it can slow them down and make their work inconsistent. With managed services, equipment is kept optimized and maintained and we are instantly aware of any potential issues so they can be addressed before resulting in a costly hard drive crash.
Strategic IT Planning & Implementation
To support a hybrid team that works from your office and from home, you need a robust IT infrastructure that includes cloud applications and workflows that can be accessed from anywhere. Many companies end up with a less than effective cloud system because they've added one app at a time without an integrated strategy. As part of our managed IT services, we offer strategic IT planning and implementation that can help you put in place the most cost efficient and effective collaboration tools and work apps to power a hybrid team.
Backup & Recovery Support
Data being stored on devices that are spread out over multiple locations can leave your information at risk of being lost if it's not properly backed up. Whether data is on a computer, laptop, smartphone, or tablet, managed services can keep you protected by backing up all data so it's easily restorable to any device if needed.
Monitoring to Detect Malicious Activity
By using managed IT services, you have visibility into device access to your assets and data, rather than being left in the dark. This can immediately alert you to any malicious logins or other activity that may indicate an employee's device has been breached.
Let Copperband Technologies Give You a Cohesive IT Strategy
When your IT is working well, so is your office. We can help your in-office and at-home team work more productively and ensure everyone's device is secure. Contact us today to schedule a consultation! Call 931.263.8000 or reach us online.
https://copperbandtech.com/wp-content/uploads/2020/08/Why-Managed-Services-are-More-Important-Than-Ever-blog-post.jpg
1400
2800
copper_admin
https://copperbandtech.com/wp-content/uploads/2020/08/header-logo-1-1.png
copper_admin
2020-09-28 08:00:00
2020-08-24 23:32:51
Why Managed Services are More Important Than Ever in Todays Hybrid Work Environments