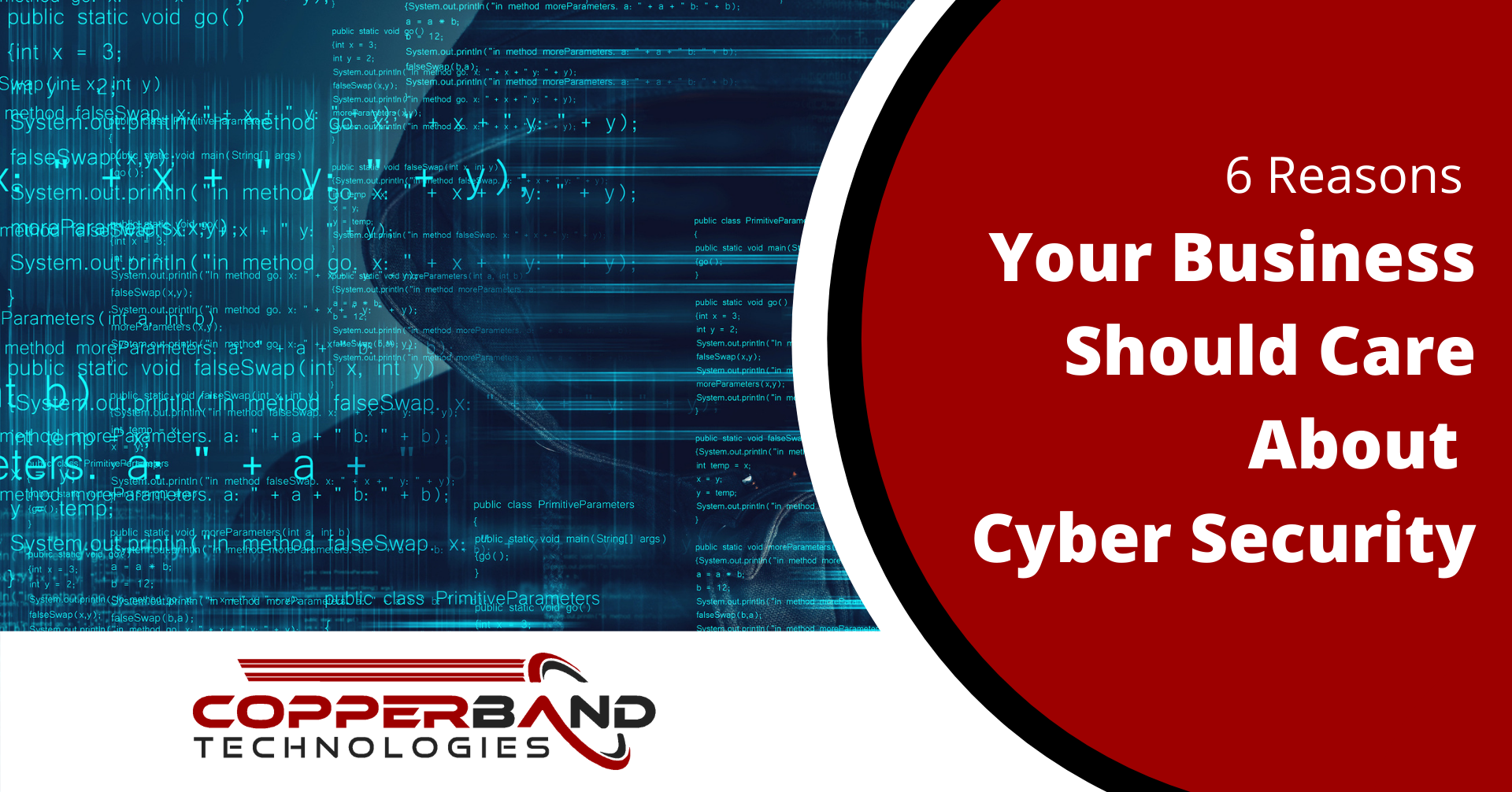 Cybersecurity means different things to different business owners. For one, it might mean having a firewall, password security, and anti-malware systems in place. For another it might mean "something those big corporations worry about." But cybersecurity is just as important for a small business in middle Tennessee and southern Kentucky as it is for any large organization. In fact, IT security has become one of the most important strategies that needs to be in place no matter what type of company you have or how many employees you have on staff. Just one ransomware attack or data breach can not only cost thousands of dollars, it also puts many SMBs out of business altogether. 60% of small businesses close their doors for good within 6 months of a cyberattack. Without proper protection of your devices, network, and cloud accounts (like Microsoft 365), a hacker can steal data, use your email against you, or infect your system with ransomware, costing you days of expensive downtime. Not only should your business care about cybersecurity, you should have it at the top of your priority list.
Here's Why IT Security is Important for Small & Mid-Sized Companies
No Company is Immune to a Cyberattack
Too many business owners think they're "too small" for a hacker to worry about. But statistics show that hackers often go after smaller companies because they tend to have less security. They can also often hack many small businesses for smaller amounts in less time than it would take them to hack a larger company for the same payoff. Small businesses make up nearly half (43%) of all data breach victims. Businesses with between 1 to 250 employees also see more targeted malicious emails than larger companies.
Even Novices Can Now Unleash Attacks
Thanks to the Dark Web and the sale of things called "exploit kits," now even those with no hacking or coding experience can unleash a sophisticated phishing attack designed to steal online banking credentials or take over an email account. These DIY hacking kits are prevalent and are multiplying the number of attacks on business networks because people no longer have to understand how to code or hack to unleash a cyberattack.
Ransomware is Getting More Expensive
Ransomware is one of the most disruptive and costly forms of malware. It infects a device and network with a code that encrypts all the files and makes them unusable. The city of Knoxville dealt with a ransomware attack in June of 2020, which caused major disruption of services. This included the Knoxville Police Department losing access to electronic reporting systems and having to revert to manually writing reports by hand. While municipalities and large companies may make the news, SMBs also are hit often with ransomware, and it keeps getting more expensive each year. Costs of ransomware over the last three years due to downtime:
2018: $46,800
2019: $141,000
2020: $283,800 (projected)
Average ransom per incident over the last three years:
2018: $4,300
2019: $5,900
2020: $8,100 (projected)
Companies Have to Follow Data Security Regulations
Most businesses are subject to at least one data security regulation or policy. For example, if you take credit or debit cards for payment, then you have to abide by the Payment Card Industry Data Security Standard (PCI-DSS). If you're in the healthcare industry, then you're required to protect patient health information according to the Health Insurance Portability and Accountability Act (HIPAA). If you're not following basic best practices for cybersecurity and you have a data breach incident that exposes sensitive customer or patient data, then you could receive a fine due to lacking the proper safeguards.
A Cybersecurity Incident Can Mean the End of Your Business
An important part of business continuity planning is to prevent IT security incidents that can cause your business major downtime. The average cost of a data breach is $3.86 million globally, and in the U.S., it's higher than any other region, at $8.64 million. The reason that 60% of small businesses end up failing after an IT security incident is because of those costs being so high. They can also follow a company around for months and even years after a breach occurs through lost revenue due to a damaged reputation.
It Costs Less to Mitigate Attacks
Just about any company on the planet now relies on technology working properly and being secure to be able to operate effectively. If you lose your data due to a ransomware attack or a breach of a cloud account, your business can be at a standstill until the damage is repaired. It's much less costly to mitigate attacks in the first place through proper cybersecurity practices that put layered strategies in place to safeguard your data, devices, cloud accounts, and network.
Put an Affordable Cybersecurity Strategy In Place Today!
Copperband Technologies has affordable cybersecurity solutions for small and mid-sized businesses in middle Tennessee and southern Kentucky that can keep you safe from a costly attack. Contact us today to schedule a security consultation! Call 931.263.8000
https://copperbandtech.com/wp-content/uploads/2020/10/6-Important-Reasons-Your-Business-Should-Care-blog-post.jpg
1869
2800
copper_admin
https://copperbandtech.com/wp-content/uploads/2020/08/header-logo-1-1.png
copper_admin
2020-10-05 08:00:00
2023-03-29 15:38:40
6 Important Reasons Your Business Should Care About Cybersecurity