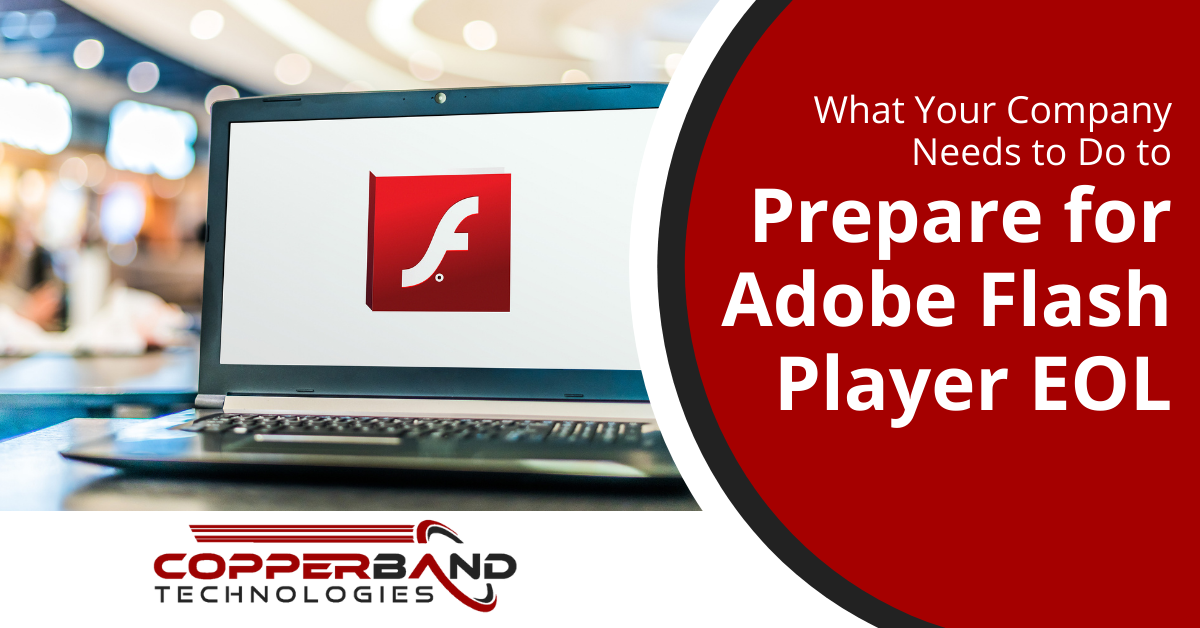 There was a time when most of the animations you would see on websites were coming from Adobe Flash. This multimedia program had its heyday in the early 2000s. It was used for everything from online games to website menus. However, technology is always evolving, and there are now new cloud solutions, plus standards like HTML5 and WebGL, that offer more efficient ways to accomplish what Flash was designed for. The Flash Player will officially reach end of life (EOL) on December 31, 2020. This means that Adobe will no longer support the software with updates or security patches. Further, as of January 12, 2021, Flash content will be blocked from running in Flash Player. This means that businesses need to do a review of their systems before the end of the year to ensure no computers have the Adobe Flash Player plugin installed.
What Does Loss of Support Mean?
What loss of support for a software, plugin, or operating system means is that it will no longer be supported through:
Software updates/enhancements
Security patches
Manufacturer technical support
When a component is no longer supported, it's important that it be removed from your devices. Otherwise, you could be leaving your system open to malware and other online threats. In 2019, 60% of data breaches were the result of unpatched system vulnerabilities. Hackers often exploit vulnerabilities in the code of plugins and software to gain access to a system in some way. As soon as this is recognized by developers, they create a fix in the form of a patch. This is why patch management is a big part of device security. Those patches are no longer issued once a component reaches end of life. This means that it's extremely vulnerable to being hacked.
Why It's Important to Remove the Flash Player
With Flash Player losing support at the end of 2020, it doesn't leave much time for businesses to ensure this browser plugin is removed from all their systems. But it's vital to do this to ensure continued network security. Here's what you need to do to prepare your company for the EOL of Adobe Flash.
Uninstall Flash Player from Company Computers
You'll want to have all the employee computers used at your Middle Tennessee or Southern Kentucky business checked to see if they have the Flash Player browser plugin installed. Adobe has a tool here that can check for Flash installation. You can also do a search on the system for "Flash Player" to see if any results are found. Flash Player is a browser plugin, so it's possible that it may need to be uninstalled from more than one browser, for instance for Firefox and Chrome.
Check for Flash on Mobile Devices
Even though Adobe stopped supporting Flash on mobile in 2011, it's possible that an employee may have used a work-around or older version of the plugin. So, your company should also check any work mobile devices for the plugin and uninstall it if found.
Let Employees Know Not to Install Adobe Flash Player
Even though Adobe and most browser developers will not be supporting Flash after 12/31/2020, that doesn't mean the installer files will magically disappear from the internet. There may be sites where employees will still run across a Flash installer and end up re-installing it on a computer that had it removed a few months earlier. Update your company IT policies and let employees know that Flash Player is no longer supported and should not be installed on any company devices.
Check Your Corporate Website for Use of Flash
If your company has used Flash for any multimedia on your website, the files will no longer be viewable as of January 12, 2021, which is when Adobe is blocking all Flash content from running in Flash Player. Have your web developer review your site for any use of Flash. If you are using Flash content, it will need to be replaced and Flash removed from your web server files so you aren't leaving yourself at risk of a breach.
Have an EOL Calendar and Action Plan
End of life happens often for various operating systems, browser plugins, and software. For example, the legacy version of Microsoft Edge will hit EOL on March 9, 2021. Your company needs to keep a calendar of EOL dates for any software that you use, or work with a trusted IT provider who can ensure you know well in advance if any components you utilize in your workflows will be phased out, so you can replace them.
Ensure Your Systems Stay Updated by Working with Copperband Technologies
One of the benefits of managed IT services is that you have a trusted provider watching out for your business security. This includes keeping you apprised of any EOL dates that will impact your software, so you're not left with vulnerable, non-supported systems. Contact us today to learn more! Call 931.263.8000 or email us.
https://copperbandtech.com/wp-content/uploads/2021/01/resized-adobe-flash-player-eol.png
630
1200
Sarah Jones
https://copperbandtech.com/wp-content/uploads/2020/08/header-logo-1-1.png
Sarah Jones
2021-01-04 08:00:04
2023-03-08 09:48:59
What Your Company Needs to Do to Prepare for Adobe Flash Player EOL