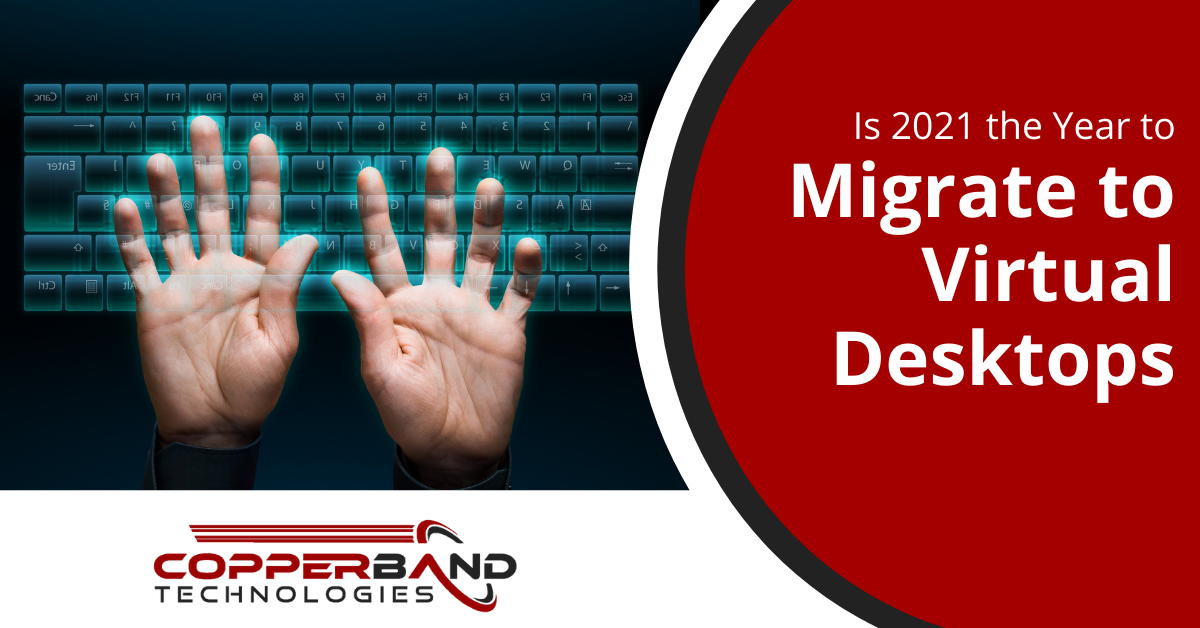 It's no secret that the pandemic has accelerated a trend that was already happening with a move to cloud workflows. With companies needing to send employees home to work remotely, it became vital to have as many processes as possible in the cloud, including VoIP phone systems, accounting, and customer support. Although the end of the pandemic may be in sight in 2021, many Middle Tennessee and Southern Kentucky businesses are planning to keep some employees remote permanently or have them use a hybrid remote/in-office workflow. 77% of surveyed employers say the number of remote employees working 3+ days from home weekly will increase post-pandemic.
One of the challenges with using a hybrid remote/office work model is how to make an employee's work computer available in both places, so they have all the same tools and system performance no matter where they're working. Some employees may use a laptop that travels back and forth between home and work. Drawbacks are the dangers of being damaged, lost, or stolen. Others may keep their main workstation in one place and then log into it remotely. This can mean productivity problems if they have a slow connection. Remote desktop protocols are also often used by hackers to gain access to a system. And the third option, employees using a different computer at home and work, can be even more problematic. Employees may not have access to all the same files, features, software, or system performance. One way to give employees the same computer and resources, no matter where they are, without the need to carry around a laptop, is through a hosted virtual desktop.
Advantages of Hosting Your Desktops in the Cloud
Here are several reasons why 2021 may just be the year to migrate your employees to virtual desktops.
The Same Workspace is Available Anywhere
A virtual desktop basically loads your entire operating system and everything on it (files, software, settings, etc.) on to a cloud server and makes it available through a web login. This allows you to turn any device into "your main computer" by simply accessing your workspace environment online. This improves the hybrid office/remote work approach because employees don't have to carry any hardware around and can log into the same desktop workspace from any location.
Improves Device Security
One of the risks of remote workers is that their devices won't be properly updated as they should with vital security patches. Since the start of the pandemic, 20% of surveyed companies report experiencing a data breach due to a remote worker. When you transition to virtually hosted desktops, you can easily administer all desktops from a single location. This includes being able to handle patches and updates automatically, as well as deploy corporate security policies consistently.
Storage Space Isn't a Problem
When an employee has a physical computer, that hard drive has a finite amount of space. Once it fills up, you either have to delete files or buy a new computer. Because virtual desktops are based in the cloud, they can easily be scaled up at the click of a button to add additional storage space without any expensive replacements needed.
You Lower Your Hardware Costs
The devices that employees use to access a virtually hosted desktop do not have to have high performance specifications or a large amount of hard drive space (both of which are things that raise the price of a computer). The device is simply being used to access the virtual desktop environment, which is where all the performance is happening. This means you can buy less expensive hardware and lower your overhead.
Greater Control of Your Company Resources
Using a remote workforce can boost productivity and lower costs, but one of the drawbacks is the potential loss of control over your company assets and resources. These may be on an employee's personal computer or on a company-issued device but located away from your office. Using virtual desktops allows you to maintain complete control of all company assets because files are stored on the virtual desktop environment, and through an administrative panel, you have access to these anytime. This also makes it easier to offboard employees that may be leaving the company, because you can simply remove user access, but retain complete control of the workspace.
Easier Employee Onboarding
If you use physical desktops at your business, onboarding a new employee can be time-consuming from a technical perspective. A former employee's computer may need to be cleaned of sensitive information and software installed according to that employee's position. With virtual desktops, you can have a brand-new virtual environment set up for an employee in minutes. You can even save "templates" of your hosted desktops that already have the appropriate settings and software that match their position ready to go.
Explore Your Virtual Desktop Options with Copperband Technologies
Will virtual desktops help you improve security and increase efficiency? Let's find out! We'll be happy to go through your options and answer all your questions. Contact us today to schedule a consultation! Call 931.263.8000 or email us.
https://copperbandtech.com/wp-content/uploads/2021/01/resized-virtual-desktops.png
630
1200
Sarah Jones
https://copperbandtech.com/wp-content/uploads/2020/08/header-logo-1-1.png
Sarah Jones
2021-01-11 08:00:00
2021-03-14 20:52:37
Is 2021 the Year to Migrate to Virtual Desktops?