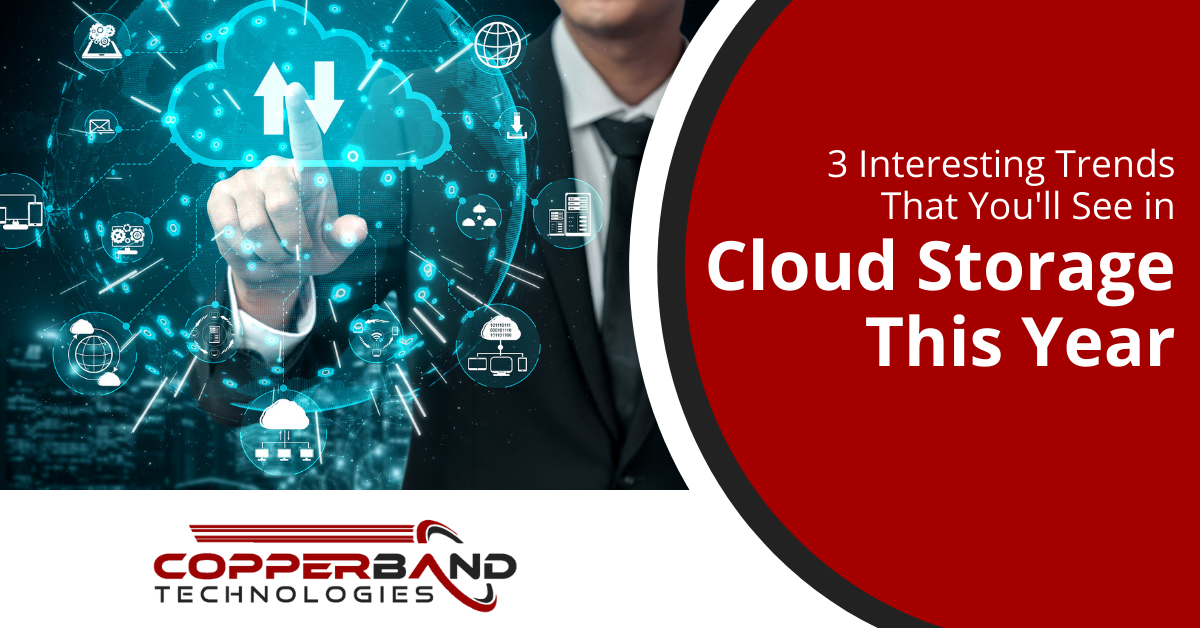 Here at Copperband Technologies, we say a phrase: 'business has left the building'. What we mean is that the rise of cloud services has changed the workplace forever. Cloud applications like Teams, Slack, Google Drive and Box have facilitated new ways of working. Gone are the days when you had to be on-site to access your data and files. Now, you can access them anywhere, anytime on any device – as long as you have the correct login credentials. 
Cloud storage, in particular, has been excellent for SMBs. It tends to be cheaper than paying for on-premises servers. Plus, cloud storage enables seamless collaboration and is entirely flexible. Because of its benefits, the cloud storage market is proliferating. Markets and Markets predicts the cloud storage market size will grow from $50.1 billion in 2020 to $137 billion by 2025 – that's a lot of zeros! This space is also highly competitive. Businesses are always looking for the best deal out there. If one provider's storage options are cheaper than another's, they won't hesitate to move. In line with this, there's a lot of pressure on cloud storage players to continuously innovate and improve their services. There's no such thing as standing still in the world of the cloud. As a result, we can expect to see some exciting changes over the last 12 months – that will benefit SMBs like you. 
Quick Definition: Cloud Storage
Cloud storage is a way to store your data, files and resources off-site in a remote server managed and maintained by your cloud provider. You access the server via an internet connection. Cloud storage has many benefits over traditional storage methods. Firstly, by storing data in the cloud, you can access it anywhere as long as you have an internet connection. You no longer need to be on-site or on your company laptop to do your work. This also makes collaboration much more effortless. With the proper sharing permissions, it's easy for you and your colleagues to access the same data – even when working remotely. Cloud storage also offers super flexible payment models. Depending on how much space you need, you can scale your storage instances up and down, which is great for SMBs on a budget.
Cloud Storage Trends To Know
Cloud storage is often a no-brainer for SMBs. But not all cloud storage is created equal. Just because you've been with your provider for a long time doesn't mean that you shouldn't shop around – especially as cloud players bring out new capabilities and offers. With that in mind, here are some trends to look out for in 2022. 
Ransomware scanning
Ransomware is a form of malware that, once in your systems, encrypts access to your data. You can only get your data back by paying an expensive ransom – and, even then, there's no guarantee! Ransomware can be crippling for businesses of all sizes. If a ransomware variant gets into your cloud storage, this could ground your operations to a halt. It seems cloud providers have recognized the dangers of ransomware. As a result, more and more companies are offering ransomware scanning capabilities by default. Ransomware scanning works by analyzing your data and files as you upload and download them to ensure that no malware or ransomware is in them. If the scanner identifies something untoward, it will quarantine the file before it infects your systems. 
Cloud costs stay competitive
It's pretty common for a well-loved product or service to increase in price – as the rule of supply and demand goes. However, in the case of the cloud, demand is skyrocketing, and supply is limitless. This means that cloud providers will not hike up their prices this year. In fact, we're going to see more cloud vendors offer tools and services that help businesses maintain control of their costs.For example, many providers have started to offer automated tracking solutions, which help businesses keep an eye on their cloud spending. Some tools even allow you to set spending caps and automatically prevent your users from uploading data if the cap has been reached.
Sustainability takes centerstage
The cloud doesn't have to be at odds with sustainability. As environmental issues climb international agendas, big tech players like Amazon, Microsoft and Google are taking steps to lower their carbon footprints. This is good news for businesses concerned about the impact of these services on the environment. Microsoft, for example, has pledged to be carbon negative by 2030. Google also recently released a tool that helps companies understand the carbon emissions deriving from their use of Google Cloud. While these are small steps, it's positive to see that big tech players are taking responsibility for their impact on the environment.
Embrace Cloud Storage With Confidence!
Are you taking advantage of all the benefits that cloud storage has to offer? Copperband Technologies can help your southern Kentucky or Middle Tennessee business ensure you're not leaving any value on the table. Contact us today to schedule a consultation! Call 931.263.8000 or reach us online.
https://copperbandtech.com/wp-content/uploads/2022/03/resized-3-Interesting-Trends-That-Youll-See-in-Cloud-Storage-This-Year.png
630
1200
Sarah Jones
https://copperbandtech.com/wp-content/uploads/2020/08/header-logo-1-1.png
Sarah Jones
2022-04-04 08:00:00
2022-03-30 09:22:33
3 Interesting Trends That You'll See in Cloud Storage This Year