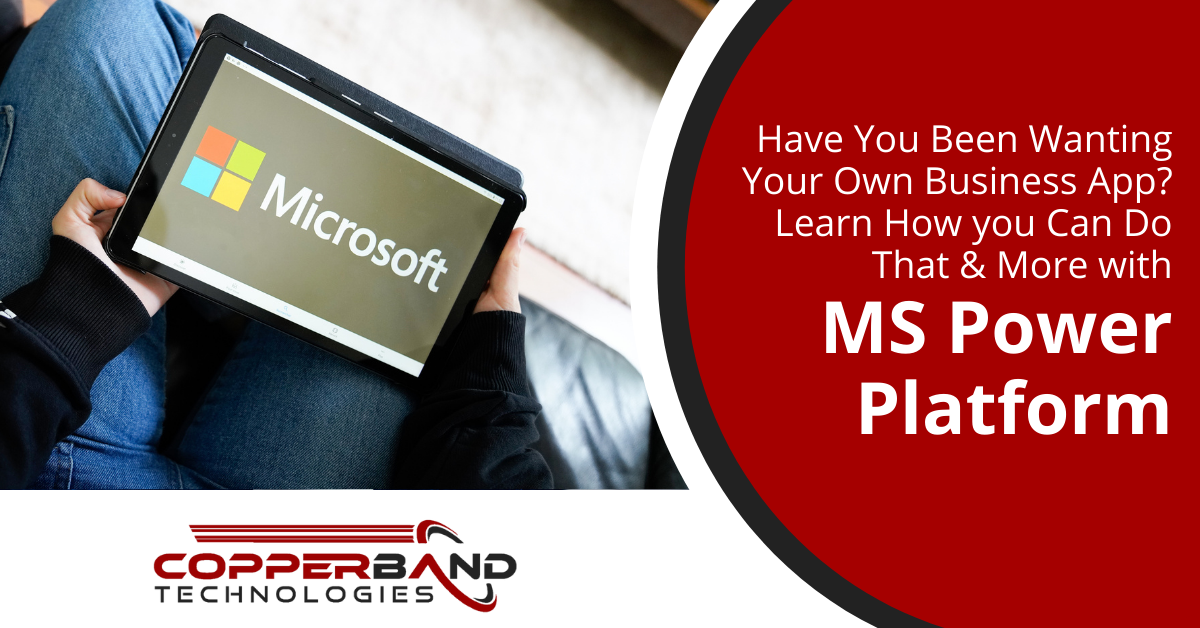 If your business is yet to venture into the world of customized applications, you should reconsider. These days, there's an app for everything – but having your own, personalized applications can have a range of benefits. Today, many of us work and access the internet on the go. Having an app that works on both mobile and laptop can be a great way to reach new customers. You could also consider building internal apps to facilitate better internal communications and streamline your processes. But building an application from scratch isn't easy – or cheap. Research indicates that the cost of building an app is anywhere from $10,000 to $150,000 – depending on the features you want. And that's not even considering the costs of updating and maintaining your app, which you'll need to do regularly. Don't fret, though! There is a way to build apps without spending a fortune on external app developers.
Microsoft Power Platform is democratizing app development
You've undoubtedly heard of Microsoft, and may even use Microsoft Office 365 and Teams in the workplace. Well, there's another string to Microsoft's bow that you should consider deploying. It's a service called Microsoft Power Platform. Launched in 2018, Power Platform has proliferated over the last four years, and it is now used by 16 million users worldwide. Microsoft Power Platform is the answer to your application development woes. It's designed to help regular employees create and manage their own applications, making it easier than ever for your business to unlock the benefits of customized applications.
What are the features of Microsoft Power Platform?
Microsoft Power Platform has three separate applications, each with its own functionality and purpose. Depending on your business's needs, you can pick and choose which of the three applications you use. Here's how they work:
Power BI
These days, all companies create and manage vast amounts of data – but they don't always know how to make sense of it. That's where Power BI comes in. It's what's known as a data visualization tool. It helps your company make sense of your data, so that you can make more informed business decisions. Power BI really comes into its own when you use it for an extended period of time. Using automation and data analytics, Power BI will start to pick up patterns from your data, helping you to see new insights and even unlock new revenue streams. 
For example, Power BI can be used for customer analysis, helping you to gain a deeper understanding of who your customers are, what they're purchasing and where you should focus your sales and marketing efforts. While data visualization sounds complicated, it's actually designed to make understanding data simple and straightforward. Your data will appear in easy-to-read widgets like pie charts and excel sheets so that you can derive value from your information. 
PowerApps
PowerApps is your go-to for improving employee collaboration and customer communication. It can be used to create any app you imagine, such as a hot desk booking system app, an HR onboarding app or even a customer booking app. The best thing about PowerApps is that your employees can create these applications without any coding knowledge. Rather than write code, PowerApps features drag and drop widgets that make it effortless and straightforward to build applications with a click of the mouse. 
Power Automate
Repetitive, mundane tasks eat away at your employees' time, costing you money and hampering efficiency. In line with this, research indicates that almost 50% of employees say their productivity is impeded by repetitive work like manual invoicing or data entry. Power Automate enables you to take advantage of automation so that your employees no longer have to spend ages on these low-value tasks. For example, Power Automate can set up automatic invoicing systems or synchronize your files. By handing these manual tasks over to Power Automate, your employees can focus on more meaningful work. It's no wonder that almost 90% of SMBs believe that automation helps them keep up with larger competitors.
Ready to start your Power Platform journey?
Microsoft Power Platform is ready and waiting for you to use. If you have an Office 365 subscription, then you can start using Power Platform today! While Power Platform definitely democratizes access to application development, it does take a bit of expertise and practice to get used to. We can help you and your team deploy Power Platform and offer tutorials on how to use it.Plus, if you'd rather hand over Power Platform app development to us, we can manage the whole process for you, so you can focus on running your business – rather than technology!
Unlock the benefits of Microsoft Power Platform now!
Are you taking advantage of all the apps and AI-driven features in Microsoft 365 and Power Apps? Copperband Technologies can help your southern Kentucky or Middle Tennessee business ensure you're not leaving any value on the table. Contact us today to schedule a consultation! Call 931.263.8000 or reach us online.
https://copperbandtech.com/wp-content/uploads/2022/03/resized-Have-You-Been-Wanting-Your-Own-Business-App.png
630
1200
Sarah Jones
https://copperbandtech.com/wp-content/uploads/2020/08/header-logo-1-1.png
Sarah Jones
2022-04-11 08:00:00
2022-03-30 09:37:03
Have You Been Wanting Your Own Business App? Learn How you Can Do That & More with MS Power Platform