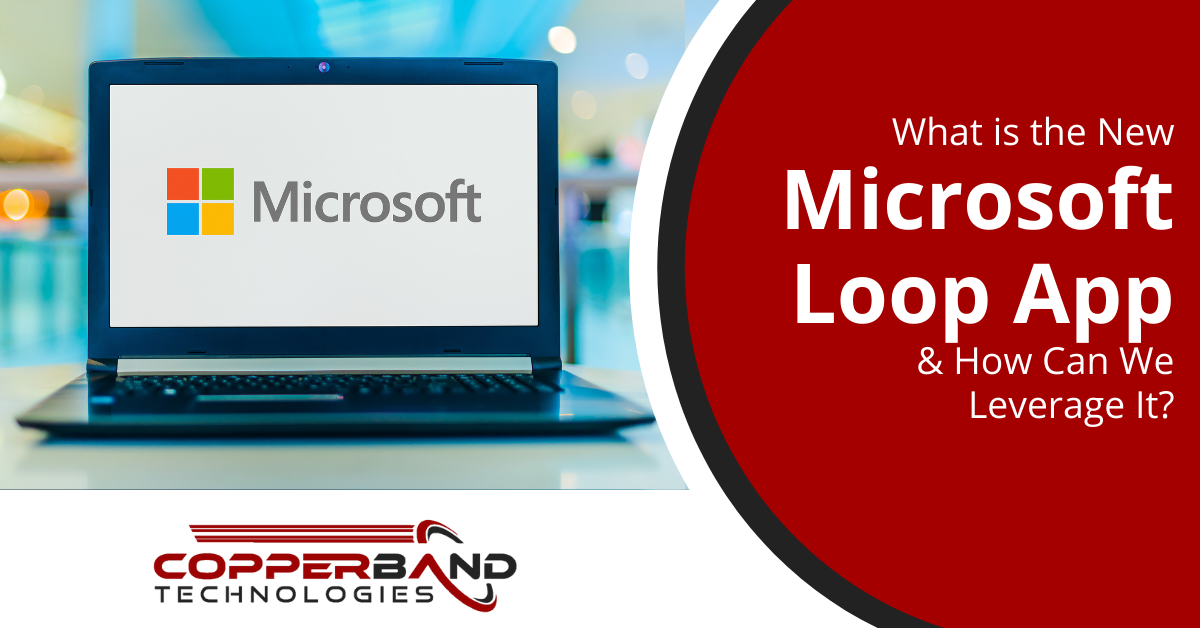 It's always an exciting time when Microsoft adds a new application to its suite of tools. For many of us, Microsoft 365 and Teams became the lifeblood of company productivity during the pandemic, enabling us to collaborate and communicate with colleagues and partners effortlessly. Like all companies, Microsoft is constantly innovating – and the company's latest offer is designed to help organizations better embrace hybrid work. Microsoft's CEO, Satya Nadella, called Microsoft Loop "the next big breakthrough in Microsoft 365." We've taken a look at the app, and we're excited too. Let's take a look at how it can support your business. 
First things first, what is Microsoft Loop?
Microsoft Loop was born out of the new hybrid work paradigm. Research indicates that 70% of companies plan to adopt the hybrid model, and prominent players like Adobe, Salesforce, Spotify, and Twitter have already committed to a permanent hybrid work environment. While tools like Teams, Slack, and M365 have been great for facilitating hybrid work, they aren't without their flaws. For example, we've all experienced remote brainstorming sessions that felt clunky and monotonous. And who hasn't become frustrated when a document's version control has gotten out of hand? It's these kinds of issues that Microsoft Loop aims to solve. Microsoft Loop an interface designed to facilitate remote collaboration in real-time.
It's worth noting that Loop isn't completely brand new. Instead, it's an evolution of Microsoft's core Microsoft 365 applications: documents, spreadsheets, and presentations. With Loop, these applications are being merged into a single unit. It is one that multiple employees can access and view at any given point, with the service syncing in real-time as people interact with the application. No matter where they are based. Below, we'll take a deeper look at each of Microsoft's Loop elements. 
Loop Components
Think of Loop Components as small content widgets – such as notes, to-do lists, and voting polls – that your employees can instantly create, share, and update with their colleagues. Rather than having to create a Word document, keep a physical paper trail or hop on a call, Loop Components aims to make small tasks easier, more engaging and fluid. As an example, say your employee is working on a document that has to go through several approvals. They can use Loop Components to make a status tracker that keeps the tabs on the approvals process and notifies users when it is their turn to look at the document. Loop Components is already available in Teams, engrained into the chat function. We also expect it to be rolled out with other Microsoft apps like Outlook and OneNote in the next few months. 
Loop Workspaces
Loop Workspaces will be the central hub for all things Loop. It will be the drive that holds Loop Components and Loop Pages (more on that below!). It's helpful to think of Loop Workspaces like a project board, a place where your employees can look at their tasks in their entirety and see what their team is up to. Please note, Loop Workspaces hasn't launched yet – but it's expected to be released in the coming months. Our IT services team will you updated on the launch date.
Loop Pages
Loop Pages is the blank canvas on which your employees can create and collaborate. Your people will be able to create different pages for different teams, helping them keep track of group projects and brainstorm ideas in real-time.
How can Microsoft Loop help your company?
Microsoft Loop promises to be a game-changer for employees who work remotely. It'll bring a sense of connection and team unity to tasks often lost in the work-from-home environment. From an employee well-being perspective, we also know that Microsoft has conducted extensive research into how people have handled work from home. This is why they launched Microsoft Viva last year. The move to Loop should further help employees perform their best when working remotely. 
Do you need Microsoft Loop?
Microsoft Loop is an optional interface – you don't have to adopt it. Your decision to do so will depend on a few factors. These include the size of your company, how often your people work remotely, and how they feel about the work-from-home experience. Generally speaking, companies with larger teams will get more out of Loop. Moreover, if you're planning to move back to a full-time office scenario, Loop might not be necessary for your company. If you would like to get started with Loop, we recommend helping your people familiarize themselves with the app by using Loop Components within Teams. As mentioned, we'll keep you updated as and when more Loop announcements come out. 
Optimize Your Microsoft 365 Use to Get the Most Value
Are you taking advantage of all the apps and AI-driven features in Microsoft 365? Copperband Technologies can help your southern Kentucky or Middle Tennessee business ensure you're not leaving any value on the table. Contact us today to schedule a consultation! Call 931.263.8000 or reach us online.
https://copperbandtech.com/wp-content/uploads/2022/01/resized-What-is-the-New-Microsoft-Loop-App-.png
630
1200
Sarah Jones
https://copperbandtech.com/wp-content/uploads/2020/08/header-logo-1-1.png
Sarah Jones
2022-02-28 08:00:00
2022-01-31 18:17:54
What Is the New Microsoft Loop App & How Can We Leverage It?