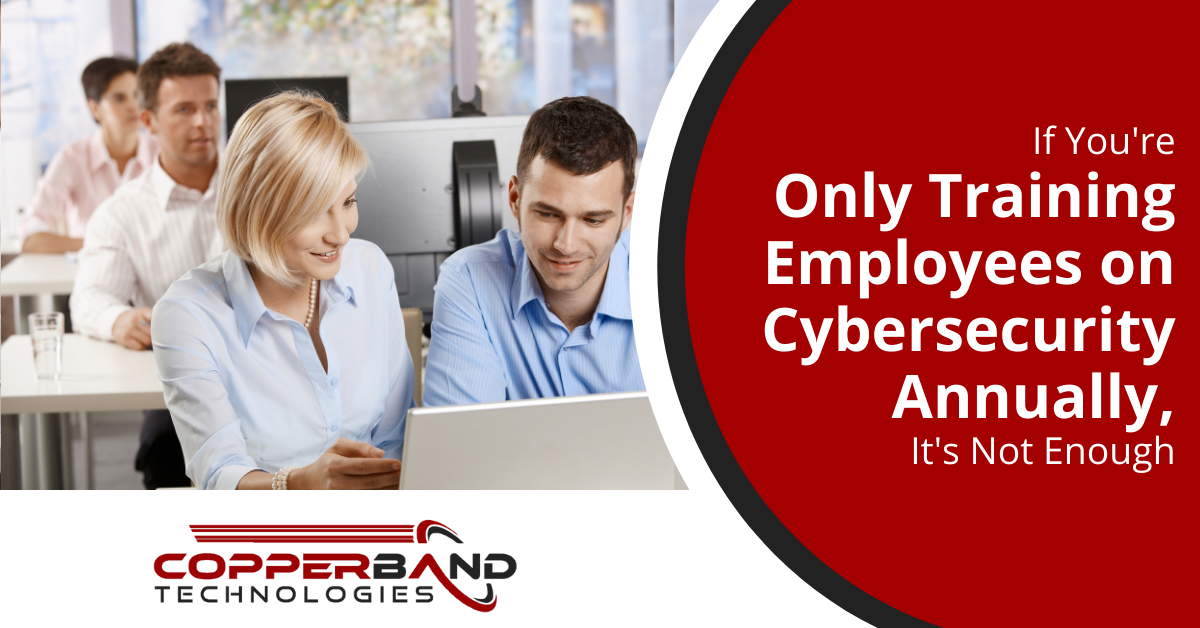 Recent increases in cyberthreats are more than sufficient justification for businesses to standardize cybersecurity education. 95% of cyber threats are the result of human error, according to studies. It is of equal importance to understand that the most valuable assets of your organization are the most crucial aspect of your company's cybersecurity. Consequently, if you only train your employees once a year on cybersecurity, the results will be as inconsistent as the training plans. Some firms wait until cybersecurity awareness month to brief employees on the recommended practices for cybersecurity. Such training is ineffective in the face of cybercriminals' ceaseless operations. Cybersecurity is a fundamental concept that every employee must learn and make a part of their normal day-to-day. Consistent and practical cybersecurity training can avoid cyber threats and maximize the income of businesses through increased productivity. However, doing otherwise might cause the following:
Leaked company's data

Identity theft

Unnecessary spending on data breaches can cause an organization to go bankrupt.
Similarly, an insider attack can wreak tremendous harm. According to a survey, insider accounts are responsible for sixty percent of data breaches within an organization. With various cyber threats available, do you think an annual employee cybersecurity training is sufficient to beat hackers' tactics? Absolutely, not enough. So, let's get down to business. Read on to learn about cybersecurity best practices that will move the needle.
The Weakness of Annual Cybersecurity Training for Employees
Due to varying perceptions of company security, most businesses underrate the significance of regular cybersecurity training. Some businesses view cybersecurity training as a regulatory compliance activity or to satisfy cybersecurity insurance needs. Considering the ongoing cyber threat trends, the impact of new attacks, and the strategies employed, a yearly training plan is insufficient. Research indicates that there are more than 2,000 cyberattacks per day. Therefore, employees require sufficient time to comprehend the impact of prevalent hazards and avoid them. As a result, every business must invest heavily in data protection through effective employee cybersecurity training. Another shortcoming of annual training is that it is monotonous and outdated. Employees will be better prepared and willing to prevent cyber dangers if they stay abreast of the newest data breach, phishing, and smishing developments.
Similarly, Usenix's research on phishing awareness and education over time indicated that the retention rate of employees following continual cybersecurity training is significantly higher than after a single training session. This study also confirmed that cybersecurity training is more effective when conducted twice or three times per year. Cybercriminals routinely upgrade their methods, rendering once-a-year cybersecurity training for employees outdated. Most annual training is also too generalized for an employee's unique comprehension and application to everyday work ethics. Effective cybersecurity training must incorporate hands-on exercises and instill implementation responsibility in the employee's mind. However, most annual cybersecurity training consists of general recommendations and easily recommended practices that lack a comprehensive detail.
How to Improve Cybersecurity Training to Boost Employees' Education
Cybersecurity training is the most effective method for bringing staff up to date on cybersecurity and cyber threats. Nevertheless, a more effective approach to the training is required. An annual training plan will not produce sustained results. Therefore, businesses need to shift their attention from cybersecurity training as an activity to cybersecurity training as a fundamental business requirement. At this stage, cybersecurity training will no longer focus on the mentioned cybersecurity practices but rather on a comprehensive grasp of each cyberthreat's specific characteristics. Every employee will be able to assume complete responsibility for the company's cybersecurity needs, even in the absence of IT specialists.
A stringent follow-up phase is an additional technique to boost annual cybersecurity training. This phase entails reinforcing everything the user has learned so that they are retaught whenever an employee makes a mistake. Training an employee at the click moment corrects incorrect behavior, reinforces desirable behaviors, and establishes proactivity as a habit. Integrating technology and educating your personnel on the significance of their involvement in preventing cyber tracks within the firm. Everyone is responsible for cybersecurity, and everyone must understand and take the appropriate procedures. It is now obvious that annual cybersecurity training for staff is ineffective; therefore, businesses must create alternative, shorter, and more efficient techniques to assure consistent cybersecurity education. For example, organizations can develop short, animated videos that are visually appealing. This strategy will enhance the learning framework of employees. Also, you can have a relevant compilation of cybersecurity resources made available to all employees frequently.
Conclusion
You cannot afford to fall victim to cyber-attacks because of your employees' negligence. The reality is that you are responsible for your organization's cybersecurity procedures and demands. Why not create a plan for the Cybersecurity training of your employees? Protect your organization with unmatched IT security from Copperband Technologies to concentrate on your productivity. You can contact us via our website or at (931) 263 8000.
https://copperbandtech.com/wp-content/uploads/2022/06/resized-If-Youre-Only-Training-Employees.png
630
1200
Sarah Jones
https://copperbandtech.com/wp-content/uploads/2020/08/header-logo-1-1.png
Sarah Jones
2022-06-13 20:00:00
2023-03-09 14:46:22
If You're Only Training Employees on Cybersecurity Annually, It's Not Enough