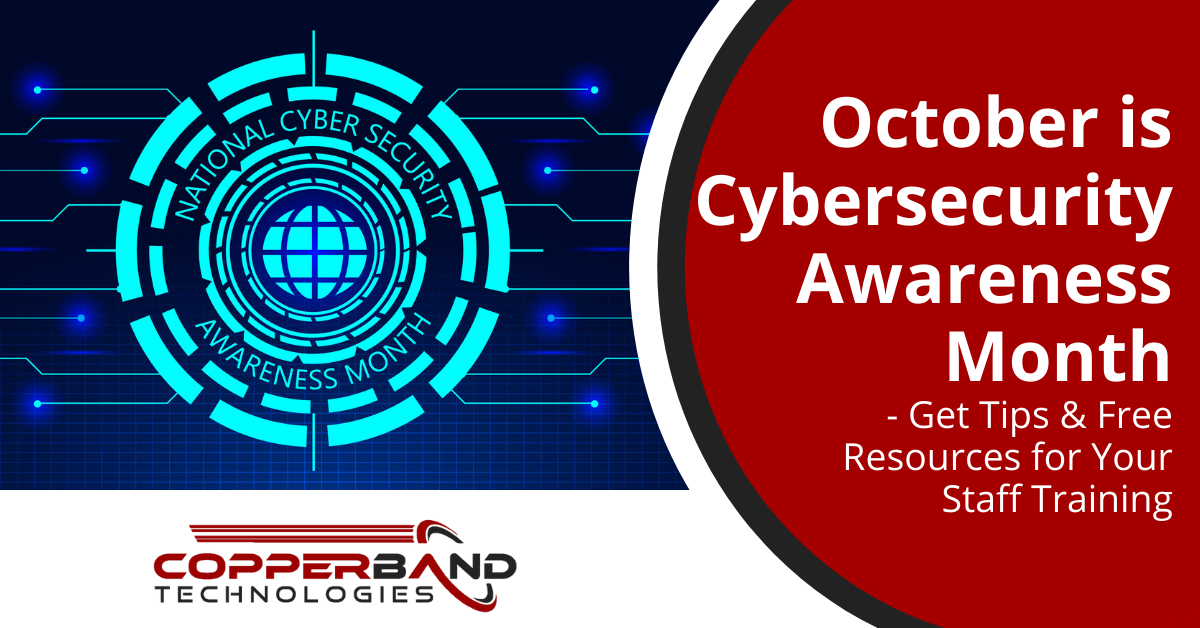 Trying to come up with fresh cybersecurity awareness content for your employees can be challenging. It's not something that is usually high on the priority list for companies, yet it's important to continue to drive home the message of a cyber secure workplace. Security of IT systems has become of major importance to businesses of all sizes due to two factors:
The increase in cyberattacks

The rising costs of data breaches or malware remediation
In just the last 12 months, the cost of remediating a ransomware attack has more than doubled. It's now up to $1.85 million. And if you had any questions about how important password security is, just look at the fact that cloud attacks have gone up by 630%. Compromised passwords are now responsible for most data breaches that occur. The good news is that October is Cybersecurity Awareness month. That brings with it plenty of tips and free resources from the Cybersecurity & Infrastructure Security Agency (CISA). We'll go over some of the most helpful cybersecurity tips below and provide links you can use to download free tips sheets and more.
Create a Culture of Cybersecurity With These Helpful Tips
Tips for Protecting Your Digital Home
Ever since the pandemic, many businesses have employees that work remotely from home. This adjustment in the workplace looks to be taking hold permanently. This increases the risk of a cyber incident if you haven't properly trained your team on good home office cybersecurity. Here are some tips to help you do that.
Ensure Wi-Fi is Secure:

Home Wi-Fi that is used for transmitting business data needs to be properly secured. Make sure it has a strong password and is updated and patched regularly.

Double Login Protection with MFA:

Multi-factor authentication

is one of the best ways to prevent compromised passwords. Google found that it was 76% to 100% effective (depending on the method). It should be a standard for all cloud account logins.

Use File Sharing Cautiously:

Be careful about file-sharing settings on your devices, otherwise, you could be sharing sensitive work documents with any other PCs or mobile devices in your home or outside it without even realizing it. It's best to password protect any sharing networks and turn them off if not needed.
Download the tip sheet to share with your team.
Tips for Creating Strong Passwords
Weak passwords are a common culprit of cloud jacking incidents. Employees have so many passwords that they make them easy to remember, which also often means easy to hack. Here are some rules of thumb for creating better and more secure passwords.
Use a Passphrase Instead of Password:

The longer a password is the harder it is to hack. Use a passphrase (several words without spaces between the words) to create a login that can be both easy to remember and difficult to hack.

Get Creative With Spelling:

You want to stay away from common words when creating passwords, one way that you can make them harder to guess is by purposely misspelling them. For example, use "enjin" instead of engine.

Use a Password Manager:

One of the best ways to stop forgetting passwords and avoid using ones that are too easy is to use a password manager. You only need to remember a single login to access all others.
Download the tip sheet to share with your team.
Tips for Avoiding Falling for Phishing Attacks
Phishing remains the biggest driver of online attacks. All an attacker has to do is create a clever enough fake email to trick just one person, and an entire company network could be infected with ransomware. Phishing awareness is a key message to continue driving home with employees regularly. Here are several tips to help you do that.
Think Before You Act:

Most phishing emails try to create a sense of urgency to get you to click before you think. If an email is warning that an account will be cut off or is using some other tactic to get an immediate response, be immediately suspicious and investigate further before taking action.

Install Antivirus Software on All Devices:

Most people have antivirus on their computer to help catch malicious attachments, but smartphones have become a popular place to read email, yet they're often unprotected. Make sure you install antivirus software/apps on all your devices.

Be Careful of Hyperlinks in Emails:

Hyperlinks have become the most popular phishing tactic used since file attachments can get blocked by antivirus software. Don't assume a hyperlink is safe. Hover over links first to reveal the URL, and go to sites like UPS, Amazon, etc. by typing their URL in a browser, not clicking a suspicious email link.
Download the tip sheet to share with your team.Want more free cybersecurity resources? You can grab them here.
Get Help With Ongoing Cybersecurity Awareness & Security
Copperband Technologies can help your southern Kentucky or Middle Tennessee business with ongoing IT security awareness training for your team and other important security precautions, such as DNS filtering, managed antivirus, and more. Contact us today to schedule a consultation! Call 931.263.8000 or email us.
https://copperbandtech.com/wp-content/uploads/2021/10/October-is-Cybersecurity-Awareness-Month-Get-blog-post.jpg
1752
3000
Sarah Jones
https://copperbandtech.com/wp-content/uploads/2020/08/header-logo-1-1.png
Sarah Jones
2021-11-01 08:00:00
2023-02-27 13:54:02
October is Cybersecurity Awareness Month – Get Tips & Free Resources for Your Staff Training