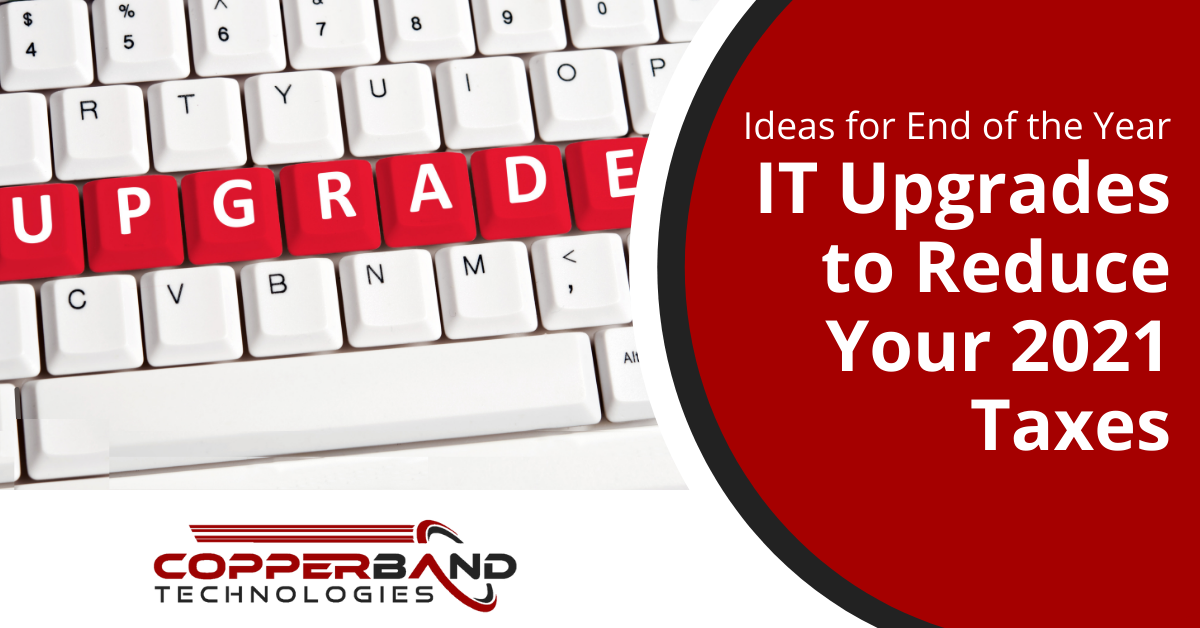 Any time of year is good to do IT upgrades that can help your business remain productive and improve your capabilities. But doing them at the end of the year provides a little extra incentive. Paybacks through tax deductions that you can get in just a few months (or weeks if you're an early filer). The business tax deduction noted in IRS tax code Section 179 includes many technology-related purchases including:
Off-the-Shelf Software

Hardware (computers, routers, servers, etc.)

Office Equipment

Communications Equipment

Security & Alarm Systems

VoIP phone system

equipment (headsets, desk phones, etc.)
Not only can you deduct the cost of the purchase, but you can also use a bonus 100% depreciation deduction. This allows you to deduct all the depreciation of new or used technology equipment and devices right away instead of having to deduct a little each year. With the tax deduction payback just around the corner, here are a few of the technology upgrades that you might want to consider investing in before December 31st rolls around.
VoIP Equipment
Due to how the pandemic has changed where and how we work, landline phone systems have become largely obsolete. VoIP is the standard now for business phone systems. They can be used from any location and enable a team of remote customer support agents and other staff. Get the most out of your VoIP system by investing in some equipment, such as desk phones for your staff who miss the traditional experience of using the phone on their desk. You can also upgrade your conferencing experience by buying a VoIP-enabled conference call system. This type of hardware can bridge some of the gaps that your team might have found when transitioning from a landline to a cloud system.
Windows 11 PCs
Windows 11 has just been launched and is slowly being rolled out to compatible Windows 10 PCs now through mid-2022.It's a good time to take a look at your current PC inventory to see which ones aren't compatible with the upgrade and are getting old and problematic. You can purchase new PCs right now that already have Windows 11 installed. The equipment purchase itself can be used as a deduction and you can also take the 100% depreciation deduction as well to decrease your tax bill and help balance out the end-of-the-year expense.
Digital Door Access System
Are you still having to change your office locks when someone loses their key or constantly dealing with who has which key to which entry door or equipment room? Switching to a digital door access system can reduce the administrative time for handling physical access to your office. It can also increase security by giving you a real-time log of who accesses each door and at what times.
IP Security Cameras
Cloud-based security cameras are much less expensive than the old, wired camera systems. They're also easy to move wherever you need them and can be monitored from anywhere with a PC or mobile device. Some of them even have two-way voice communication, which makes them handy front door intercom systems. This is a technology investment that can also potentially reduce your property insurance premiums due to the additional security.
Upgrade to a Mesh Wi-Fi
If you're still using a single router Wi-Fi at your office, you could boost productivity and network speed by upgrading to a mesh Wi-Fi system. A mesh system uses several nodes, which are like mini routers. These nodes transmit your broadband signal throughout the office, avoiding common barriers like solid block walls or large furniture. They can also improve multi-device handling and improve overall network reliability.
Office Equipment for Remote Teams
Are your remote employees lacking in office equipment basics? If you've decided to allow employees to work from home either full or part-time, they must have the same technology support no matter where they are. Do a survey of your WFH employees to find out what equipment might be lacking that would make it easier for them to do their jobs. Some common home office needs are:
Business PC or laptop (many remote workers must use their own home PCs)

Professional-quality headset

Printer

Business-grade router

Filing cabinet
You may find that by simply providing some helpful office equipment for employee home offices, you're able to improve overall morale and increase productivity at the same time.
Need Help Choosing Your Year-End Purchases Wisely?
You never want to rush when making a technology upgrade decision. Copperband Technologies can sit down with your southern Kentucky or Middle Tennessee business to review your current IT environment and enable upgrades that would make a meaningful positive impact (and give you tax breaks too!).Contact us today to schedule a consultation! Call 931.263.8000 or email us.
https://copperbandtech.com/wp-content/uploads/2021/11/Ideas-for-End-of-the-Year-IT-Upgrades-to-Reduce-blog-post.jpg
2040
3072
Sarah Jones
https://copperbandtech.com/wp-content/uploads/2020/08/header-logo-1-1.png
Sarah Jones
2021-11-08 14:29:07
2023-03-09 14:50:21
Ideas for End of the Year IT Upgrades to Reduce Your 2021 Taxes