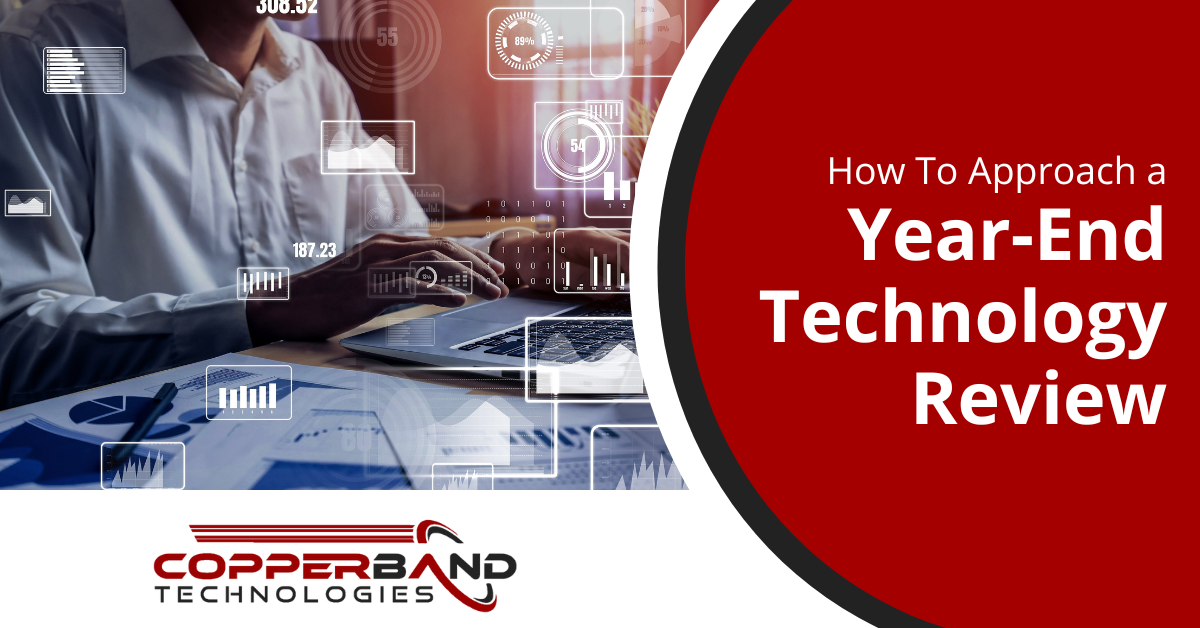 The end of the year is almost upon us, and it's almost time for businesses to conduct their year-end or annual technology review. A year-end review is one of the commonly used forms of performance appraisal. According to new data, 63% of businesses conduct a review once a year. While 18% conduct their reviews twice a year, and 8% conduct their reviews thrice a year (quarterly). Unlike large businesses, many small-and-medium-sized businesses don't have enough time to assess whether their technology system is still bringing value to their business, let alone maintain its infrastructure. They don't have the luxury of having a large in-house IT staff; therefore, they rely on their systems and networks to run their operations.
Because SMBs don't have the accompanying amount for in-house IT staff, they limit their technology spending. However, they're also trying to ensure that they maximize the results of their investments. As a result, having a year-end technology review gives you a clear picture of the strengths and weaknesses of your company's IT infrastructure. It could also lead to a conversation that could engage IT team members to do their best. All that matters is the approach used. Annual technology reviews, when approached and conducted properly, can be a valuable feedback loop. They can also be a key driver for your business growth. However, when the review is poorly handled, it can result in decreased productivity. This article outlines steps to approach a year-end technology review. It also gives practical strategies to help turn the year-end technology review into a constructive, positive experience.
What is a Technology Review?
A technology review is when a representative of your business meets with its managed service provider (MSP) to ensure the operations of your business continue to run smoothly, cost-efficiently, and securely. The year-end technology review gives your business the opportunity to discuss concerns, challenges, issues, questions, technology adjustments and changes, and more.
How to Approach a Year-End Technology Review
Before you begin your year-end technology review, the best approach is to get an MSP or a technology provider. This is because the MSP will be able to pinpoint various issues. They can also give you the best strategy that you can use in the next year. This approach has proven to be the most effective and fruitful. Here are the things needed when approaching an annual technology review:
This should be the first step when approaching a year-end technology review date. Reviewing and discussing the previous goals set during the last review helps in acknowledging goals met this year. Additionally, it helps show the problems and opportunities the previous goals brought to the business. This approach ensures business heads or decision-makers are accountable. Simply put, discussing previously set goals and the results obtained in the business is a smart first step.
Keep in mind that one of the main purposes of your business is to make sure that your customers are satisfied with your service. Therefore, your business or MSPs should not assume that your customers are happy just because they haven't made a complaint. The easiest way to stop any little difficulties from growing and becoming bigger issues is to regularly check in and find out if everyone's expectations are being met by the technological services being provided and the support mechanisms in place. Approach the year-end review from the point of view of your customers. Have they been satisfied with your business during the year? Identify and resolve service issues, such as service-level agreement (SLA) concerns, response times, technology performance, and quality challenges.
With the rise in cyber-attacks, reviewing your business's cyber threats at the end of the year is an important and recommended approach. This gives you an idea of the level of cyber threats your business has encountered and methods of protection. During the review, your business should work with an MSP or technology provider to carry out a new risk assessment of your IT security and services. This can help maintain protection against evolving vulnerabilities and threats. Approaching the technology review in the view of cyber threat occurrences can also serve as a reminder to review your incident response. Along with noncompliant IT practices or solutions, and disaster recovery plans.
Reviewing expenses is another way to approach a year-end technology review. During the review, periodic spending on regularly auditing software licenses and subscriptions will be revealed. Also, during the review, the MSP can point out ways to reduce costs. Opportunities to cut expenses often arise due to the ongoing evolution of technology. However, you must remember to seek them. Approaching the year-end technology review in view of technology costs spent in the year gives you the perfect opportunity to do so.
Another approach is the current and recently completed IT projects, as well as future projects. You can discuss the lessons learned from the previous projects, the current projects' milestones, current maintenance, and any upcoming projects. Although project reviews need their own meeting, checking on any ongoing projects during a technology review is another chance to make sure your business and its technology provider are on the same page.
Last but not least, during a technology review, all action items, follow-ups, and delegated duties should be organized in the form of precise goals. After identifying and addressing the issues that arose in the review process, setting up new technology resolutions and goals prepares you for the coming year. With these goals in place, during the next meeting to review the level of the technology services, they will see the new goals that have been set for the business.
Get Help with Your Year-End Technology Review
Copperband Technologies can conduct a year-end technology review for your Middle Tennessee or Southern Kentucky company that will help you make the best decision when it comes to your business technology. Reach us via our contact form or call us at 931-263-8000 to book a technology review.
https://copperbandtech.com/wp-content/uploads/2022/10/resized-How-to-Approach-a-Year-End-Technology-Review.png
630
1200
Sarah Jones
https://copperbandtech.com/wp-content/uploads/2020/08/header-logo-1-1.png
Sarah Jones
2022-11-14 08:00:00
2022-11-14 10:30:02
How To Approach a Year-End Technology Review