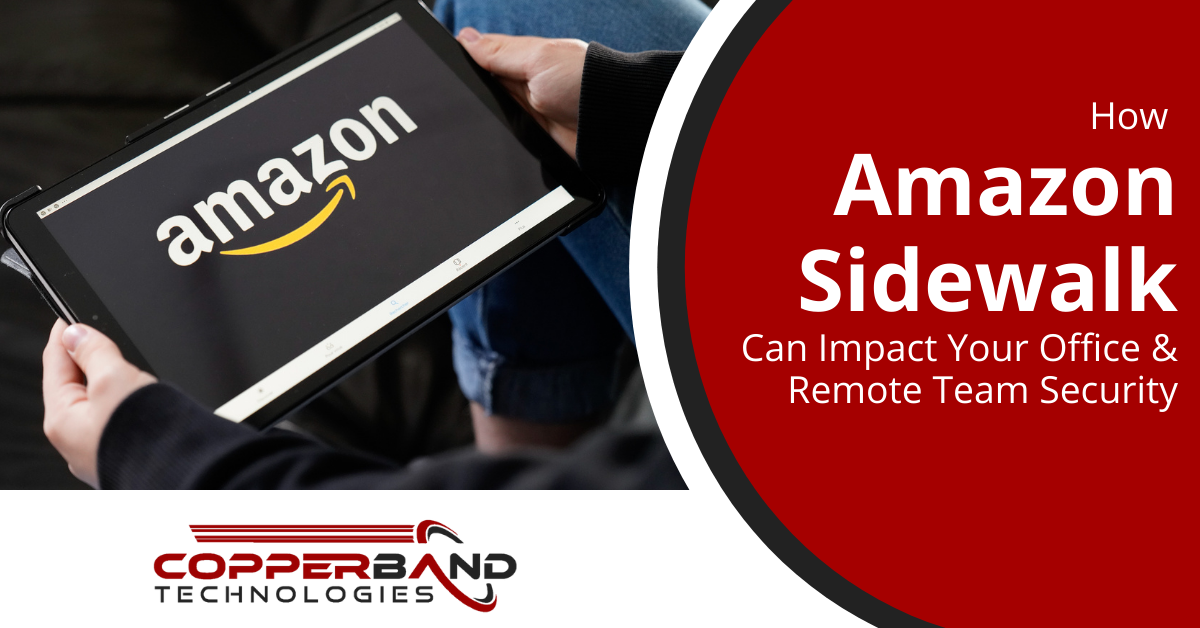 Most users know that public networks can be dangerous when it comes to IT security and to tread carefully when connected to one. Hackers will often perpetuate "man-in-the-middle" attacks to spy on other network users. As a result, they'll gain whatever useful information they can (like a login password to an account). But these public networks aren't usually connected to your devices while you're at home or in the office.
There is a brand-new type of shared public network that might already be leaving you or your remote teams at risk by connecting automatically. Amazon has created a new style of network which is designed to "borrow" bandwidth from the networks of participating devices. This low-bandwidth network is called Amazon Sidewalk. Its purpose is to create internet connectivity outdoors in areas where home & office networks don't typically reach. While there are some benefits of the network, there are also some serious security concerns. We'll go over both below.
Benefits of Amazon Sidewalk
More Freedom For Outdoor Security & Lighting
Some of the first devices that Amazon has made compatible with Sidewalk, beyond Echo devices, are certain Ring security cameras and floodlights. The extension of internet connectivity allows property owners more freedom in where they can place these types of smart devices. With Sidewalk enabled, they could potentially set them all the way to the outer perimeter and still have an online connection.
Ability to Use Echo More Places (Garages, Outdoor Areas)
Those that use Amazon Echo at home or work will be able to use the device in more places. Smart speakers are increasingly being used for business needs by connecting them to a contact list or another work application. With connectivity extended, smart devices like these can be used in more places on a property, such as at a guard gate or in a courtyard.
More Easily Track Lost Items
Amazon mentions in its marketing for Sidewalk that it has eyes on including a tracking device like Tile in the network. Tile is a small GPS tracker that can be put on just about anything from keychains to pet collars. A blanket of neighborhood connectivity would make it easier to locate lost items that were connected to the Sidewalk network.
Disadvantages & Security Issues of Amazon Sidewalk
Sidewalk Security Concerns
It's important to incorporate device security into any cybersecurity strategy, and this absolutely includes IoT devices. While Amazon is using three layers of encryption to secure the Sidewalk network, it's still a public network that anyone with a compatible device can join. Another security concern is that users can enable a feature that will show the general vicinity of their Sidewalk Bridge. Sidewalk Bridge is the term Amazon uses for Sidewalk compatible devices.
Because Sidewalk is powered by the bandwidth of user networks, this leaves remote employee networks as well as your office network, if you use any Echo or Ring devices, at higher risk of a breach. One more security red flag is the fact that Amazon is inviting third-party developers to submit devices for use with Sidewalk. Not all developers will have the same level of protection built in. In short, this opens the door for more security vulnerabilities.
People Can be Opted In Without Realizing It
A big concern is that your employees and your office are already connected to the Sidewalk network without doing anything. That is to say, Amazon began opting in compatible devices in December 2020. Device owners have to specifically go into their Alexa settings to turn off the connection to Sidewalk to opt out. Turning it off will not impact the performance of the device. It's a good idea to let any of your employees that do work at home know to check any Amazon devices they may have. Here are instructions to disable the Sidewalk network.
It's Using Your Bandwidth for No Compensation
While device owners can connect for free to the network, Amazon isn't paying any users to use their bandwidth to power it. It's just counting on the fact that users will give it away for free. Amazon states that Sidewalk uses a maximum bandwidth of 80Kbps per Sidewalk Bridge device and a maximum of 500MB per month of data per user account.
It Can Only Be Used by Approved Devices
If you're thinking you can use Sidewalk with a tablet or laptop, you'd be wrong, at least right now. You cannot connect just any device to Sidewalk, it must be an Amazon approved device. Approved devices currently include select Echo and Ring devices. Although as mentioned, Amazon is inviting developers to create Sidewalk-compatible devices, so there will be more coming in the future.
How Secure Are Your Smart Devices?
Smart devices are becoming a bigger part of company networks, it's important that you secure them properly. Copperband can help your Middle Tennessee or Southern Kentucky business ensure your network stays protected. Contact us today to schedule a consultation! Call 931.263.8000 or email us.
https://copperbandtech.com/wp-content/uploads/2021/02/resized-amazon-sidewalk.png
630
1200
Sarah Jones
https://copperbandtech.com/wp-content/uploads/2020/08/header-logo-1-1.png
Sarah Jones
2021-02-01 08:00:00
2021-03-14 20:50:15
How Amazon Sidewalk Can Impact Your Office & Remote Team Security