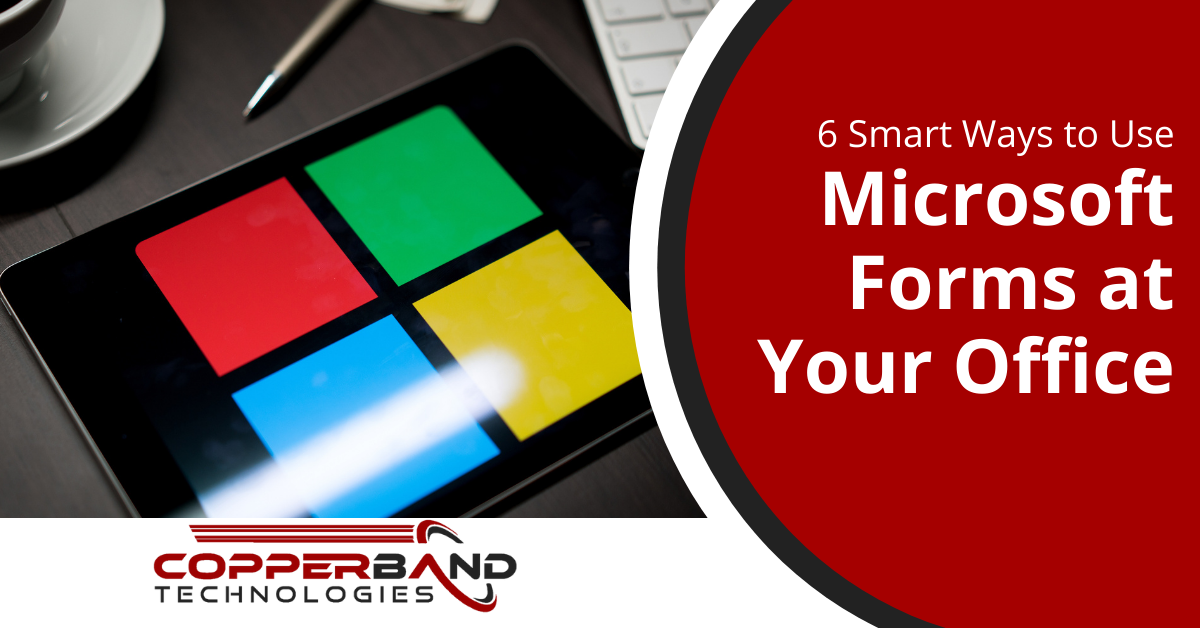 How does your company handle things like employee or customer satisfaction surveys? Do you put together a Word document or PDF and email that around to be filled out and emailed back? This can be a time-consuming process that involves collating all the results and can have potential problems with file attachments being blocked by some mail servers. There is actually a better way to handle forms, quizzes, and surveys using a cloud-based interface that's available to anyone with a Microsoft account. Microsoft Forms makes it easy to create forms for all types of business purposes, have them filled out online, and get the results collated for you. This is one of the handy apps that not everyone is aware of. It can save you tons of time and make your data gathering activities much more efficient.
How Does Microsoft Forms Work?
Forms is a web application that you can access by signing into your Microsoft account and visiting forms.microsoft.com. You have the option of creating a form from a blank slate or using one of several pre-built templates. The interface is designed to be incredibly user friendly, so just about anyone can use it. You can build a professional-looking form using:
Text questions
Multiple choice
Rating
Ranking
Likert Scale
Net Promoter Score®
You also have the option of adding an image background to your form and adding sections, which can include an image or video. Once your form is built, you can easily send it to recipients through:
A link that you text or email
A QR code
Embed in a webpage
Email from the Forms interface
Facebook or Twitter
Recipients can fill out their form online from any device, there's nothing that has to be emailed back. As soon as they fill out the form, their answers populate into your Forms interface. You can see how many responses you have, how long the survey is taking people to fill out, and can access all responses online. A huge time-saving feature is that you can click to open your form responses in Excel. They'll be all ready to review and chart with no retyping needed.
Ways You Can Use Forms for Your Business
Using Microsoft Forms makes it much easier to put together data gathering forms, send them out, and review the responses. You'll find that there are several great ways to use this tool to benefit your business.
Annual Customer Satisfaction Surveys
Gain valuable market insight and see how you can better serve your customers and make the entire process much easier for both you and your customers. Forms has a customer survey template that gives you a jump-start on the process.
Quiz Employees on Cybersecurity Training
Well-trained employees can decrease the risk of a cybersecurity attack. How do you know if the information you're training employees on is being retained? Use Forms to create a cybersecurity training quiz about things like how to spot phishing attacks, your data security policies, and more.
Event or Webinar Registration
If you're conducting an event or webinar, you can use Forms for your registrations. Not only can you customize the data you want to collect, all the registrations can be automatically downloaded into Excel, where you can then transfer the information to any other apps or processes easily.
Cloud Application Survey
Cloud waste is becoming a growing problem and it nearly doubled in 2019 as compared to the year prior. Companies often choose cloud applications without employee input, only to find out later that an app doesn't work well for their users. Use Forms to survey your employees on the apps they're using, how helpful they are and what apps they'd like to see the company use. You can gain valuable information to make better app choices, and can also root out uses of shadow IT (apps employees may be using without authorization).
Market Research Survey
Where do all those statistics come from about things like how many tablets a typical household owns? Companies often do market research about everything from buying behavior to what's projected to be "hot" next year. With Forms being a web-based interface, you can easily share your survey with hundreds of people at a time simply by sharing the link. Making it much easier to conduct large market research surveys and then chart the results by importing into Excel.
Sharable Survey Template
Once you create a survey in Forms, you can make that form sharable as a template. This is helpful if your company creates free surveys as a lead magnet. It can also be helpful if you have several divisions of your company and you'd like them to all collect the same information about a particular process. Giving them a link to a template of a survey you've created allows them to save it in their own Forms account, make any needed edits and send it out.
Improve Your Workflow & Productivity with Copperband Technologies
Our IT consulting experts at Copperband can help your Middle Tennessee or Southern Kentucky business streamline your workflows so you can do more in less time. Contact us today to schedule a consultation! Call 931.263.8000 or email us.
https://copperbandtech.com/wp-content/uploads/2021/01/resized-microsoft-forms.png
630
1200
Sarah Jones
https://copperbandtech.com/wp-content/uploads/2020/08/header-logo-1-1.png
Sarah Jones
2021-01-25 08:00:00
2023-03-02 11:48:35
6 Smart Ways to Use Microsoft Forms at Your Office