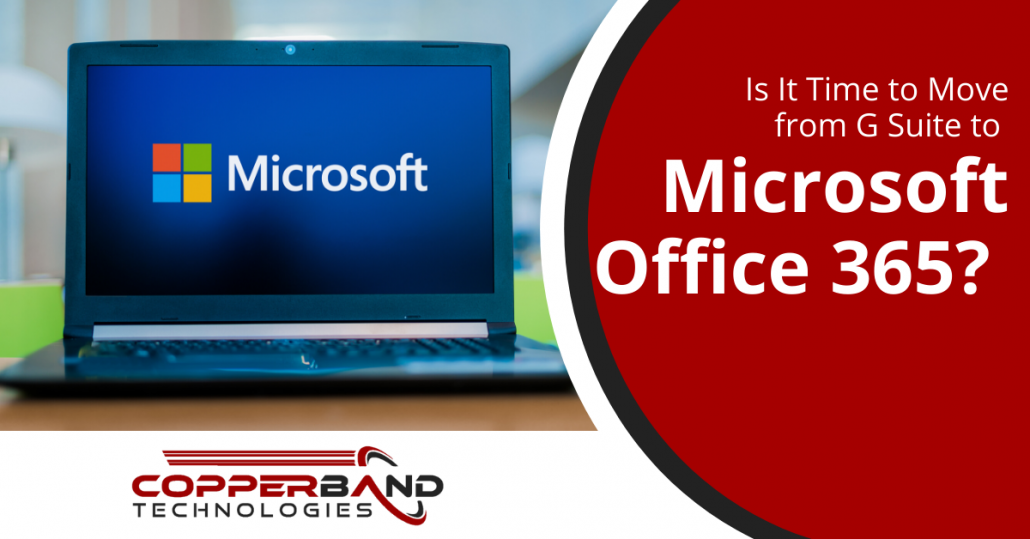 The two most popular office productivity platforms used by companies to power documents, spreadsheets, email, presentations, and more are G Suite and Microsoft 365 (formerly known as Office 365). While both offer the basic tools for office productivity, many small businesses that give G Suite a try, find it lacking some of the
business IT solutions
they need. When it comes to the cloud productivity tools your team is using, choosing tools that hold you back or give you reduced flexibility can have a negative impact on user experience and output.
92% of
surveyed employees state that having efficient technology to do their job impacts their work satisfaction.
If you're currently using G Suite productivity tools, why should you consider a move to Microsoft 365? We've got several reasons you'll want to consider below.
Why Microsoft 365 Comes Out Ahead of G Suite for Many Offices
There are several different applications that businesses use on a daily basis – CRMs, messaging, social media, and more – but one of the most important is their productivity suite. Both G Suite and Microsoft 365 are productivity suites that incorporate multiple separate apps inside a single platform. These include:
Word processing

Microsoft 365: Word
G Suite: Docs

Spreadsheets

Microsoft 365: Excel
G Suite: Sheets

Presentations

Microsoft 365: PowerPoint
G Suite: Slides

Email

Microsoft 365: Outlook & Exchange
G Suite: Gmail

Cloud Storage

Microsoft 365: OneDrive
G Suite: Drive

Other collaboration tools:

Microsoft 365: Teams, SharePoint, OneNote, Bookings, and more
G Suite: Google Chat, Sites, Keep, Google Meet, and more
But while they both may include similar tools in a single "umbrella" platform, how those tools function differs quite a bit. Here's why offices should transition from G Suite to Microsoft 365 to improve usability and productivity.
Microsoft 365 is a Cloud Hybrid
Users can switch between using Microsoft's Office apps on their computer, which is very much like the non-cloud software experience for a user or use them online. Microsoft 365 is what's known as a cloud hybrid – meaning it's just as easy to use offline as online. If you're working offline, your document will simply sync to the cloud once you're reconnected. G Suite can be used offline, but the experience is not as fluid as it is with Microsoft 365. Also, the offline access has to be enabled by the system administrator with G Suite. Because Microsoft's tools began as offline software, their offline working experience is much smoother.
You Don't Have to Convert Your Files
Having files in a Gmail document format and then having to export to Word, Excel, etc. creates duplicate files of content and takes more time. Why convert? Because most people that you do business with will expect a file attachment to come over in MS Word, Excel, etc. If you're sending a contract to a client and you send it as a Google Doc instead of Microsoft Word, they most likely won't be able to open it. All that extra conversion activity for your documents, adds up to productivity losses and the need to store more files than you should have to.
More Sophisticated Functionality
When you compare the features in G Suite and Microsoft 365, you'll see a big difference in the functionality. Microsoft is known for continually improving its products through regular feature rollouts. For example, some of the features you'll find in Word, Excel, PowerPoint, and Outlook that you won't find natively in G Suite's tools include:
Editor in Word that offers tips on grammar, clarity, and more
Presenter Coach in PowerPoint that can provide suggestions on your verbal presentation skills
Real Aloud feature in Outlook that will read your emails to you
Data Types in Excel that will pull in relevant information for designated datasets
Better Communications Integration
When it comes to communications, companies use several methods:
Video conferencing
Chat/messaging
Phone/audio calls
File sharing
G Suite divides these functionalities between multiple apps (Google Chat, Google Meet, Currents). Microsoft 365's Teams app keeps all those communication forms in one application.
67% of
employees say it's easier to focus on their work when applications are combined in a single window.
Microsoft Teams keeps all team communications in a single platform, improving efficiency and making it easier for employees to switch to the most convenient communication format for a particular conversation without having leave the app. One more helpful feature of Teams is that employees can use its Tabs feature to save shortcuts to all their most used tools (websites, Microsoft and 3
rd
party apps, documents, etc.) in a single window, further improving productivity.
Get Help from Copperband Technologies on a Microsoft 365 Migration
We can help your Middle Tennessee or Southern Kentucky business easily migrate your data and workflows from G Suite to Microsoft 365 for more functionality and better flexibility.
Contact us today to schedule a productivity consultation! Call 931.263.8000 or reach us online.
https://copperbandtech.com/wp-content/uploads/2020/07/Is-It-Time-to-Move-from-G-Suite-to-Microsoft-Office-365-blog-post-scaled.jpg
1710
2560
copper_admin
https://copperbandtech.com/wp-content/uploads/2020/08/header-logo-1-1.png
copper_admin
2020-06-03 17:31:00
2020-08-21 22:22:26
Is It Time to Move from G Suite to Microsoft Office 365?