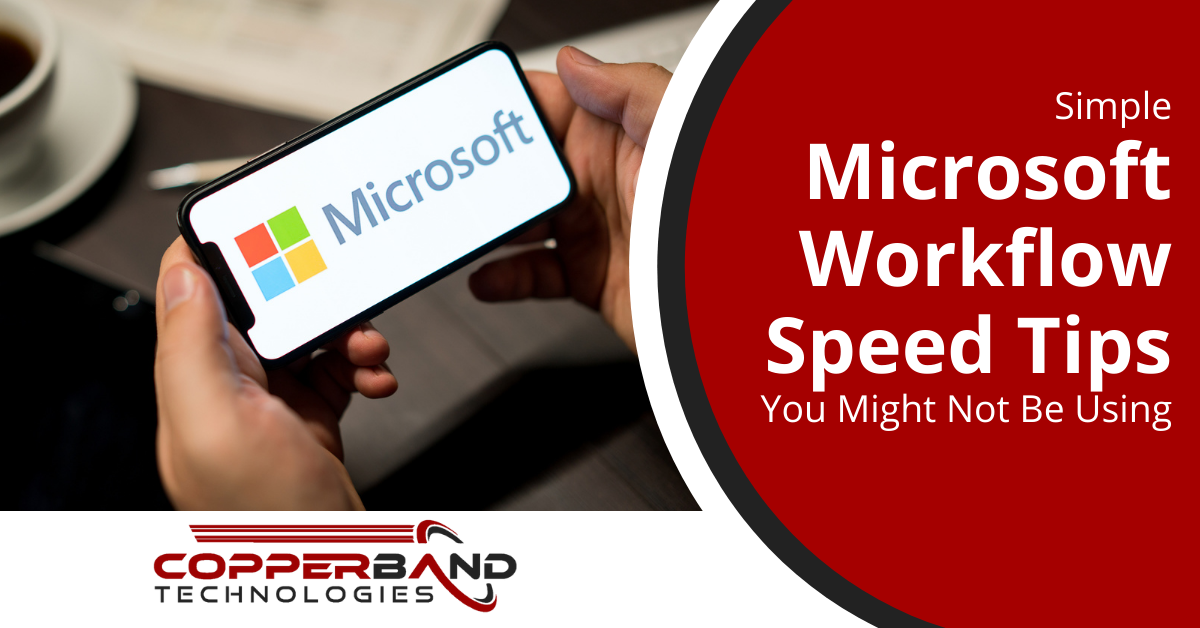 Did you ever watch a colleague do something on their computer that was so simple, yet helpful, and wonder, "How could I not know this trick?" There are tons of different keyboard shortcuts, feature tips, and workflow speedups that can be done in Windows 10 and Microsoft 365 cloud services. Some may have been around for a while. However, even the most computer savvy users may have been doing things the hard way all this time because they never knew it was there. Inefficient tools and processes can tank productivity and employee morale. In a survey by Symantec, it was found that just switching between apps multiple times per hour can waste a full hour each day. Learning some Windows 10 & Microsoft 365 workflow speed tips can supercharge your day. Additionally, they could get you back more hours per week to spend how you like.
Tips That Might Make You Say, "How Did I Not Know This?!"
Save Blocks of Text in Outlook to Reuse in Your Emails
Do you end up typing the same meeting invite intro multiple times per week? Do you find yourself getting the same question from customers or vendors and have to go back and find the last place you answered it so you can copy/paste the answer? Outlook has a better way with Quick Steps. Quick Steps allows you to highlight and save a block of text from an email. Then, you can reuse it anytime you like, without having to search for it. Save a Quick Step:
In a new email message, highlight the text you'd like to save.
Choose Insert > Quick Parts
From the dropdown, choose Save Selection to Quick Part Gallery
To Insert a Saved Block of Text:
In your new email message put your cursor where you'd like the text
Choose Insert > Quick Parts
From the dropdown, click on the saved block of text you want
Add Hyperlinks Faster Using CTRL+K
You can shave an extra click or two off your workflow by using a keyboard command to insert links instead of right-clicking and choosing Link > Insert Link. With the text highlighted that you want to hyperlink, press CTRL+K. This brings up the hyperlink window and can shave minutes off your day if you hyperlink in documents often.
Let MS Word Correct Your Spelling for You
Many people go to Google for help spelling a word when Microsoft Word is giving them that red squiggly underline warning that the word is misspelled. You can skip the trip to Google and avoid app switching by right-clicking on the word instead. Word will not only give you the right spelling and make the correction when you click it, but also the definition. So, you can confirm you're using the right word in your document without interrupting your workflow.
Keep Your Open Apps Easier to Find by Using a Different Desktop
This Windows 10 feature is often left unused because users simply don't know it's there. If you have multiple apps and browser windows open on a desktop, it can take a few seconds to find the one you're looking for when you switch between them. Your desktop can also get messy with too many windows up. You can create a completely different desktop view with different apps open and then just tab between them to find what you need more easily. To do this, click the Task View icon in your bottom task bar on Windows 10. Click "New Desktop" at the top left. You can switch between your different desktops by using Windows key + Ctrl + Left Arrow and Windows key + Ctrl + Right Arrow, improving your workflow.
Let Outlook Tell You When an Important Message Comes In
Every time you see that new message indicator in your email, do you feel like you have to stop what you're doing to ensure the message isn't from someone important? Over checking email wastes about 1.75 hours per week in productivity. Instead of constantly checking your inbox, set up Outlook to play a certain sound if an email from a particular email address or with certain words in the subject line comes in.
In Outlook, on the Home tab, click Rules > Create Rule.
Choose the designator you'd like (from a certain person or using certain words in the subject line).
Check to Play a selected sound and choose the sound file from your computer.
Click OK to save.
Now, you'll hear when your boss sends you an email, so you don't need to continually check when new emails come in. You can also choose advanced options, such as to only trigger the alert if your name is in the "To" box.
Open Apps Using the Windows Search Box
The Windows master search in the task bar allows you to search for a wide variety of things, including documents, images, and even webpages. It's also a handy way to open apps and system settings that takes less time than going into the Windows Start Menu. Just start typing the app name in the search and the link to open the app will pop right up.
Need Productivity & Workflow Help to Boost Efficiency?
Copperband Technologies offers expert technology consulting and workflow optimization for Southern Kentucky and Middle Tennessee businesses. Contact us today to schedule a consultation! Call 931.263.8000 or email us.
https://copperbandtech.com/wp-content/uploads/2021/03/resized-microsoft-workflow.png
630
1200
Sarah Jones
https://copperbandtech.com/wp-content/uploads/2020/08/header-logo-1-1.png
Sarah Jones
2021-04-12 08:00:00
2023-02-27 13:59:29
Simple Microsoft Workflow Speed Tips You Might Not Be Using