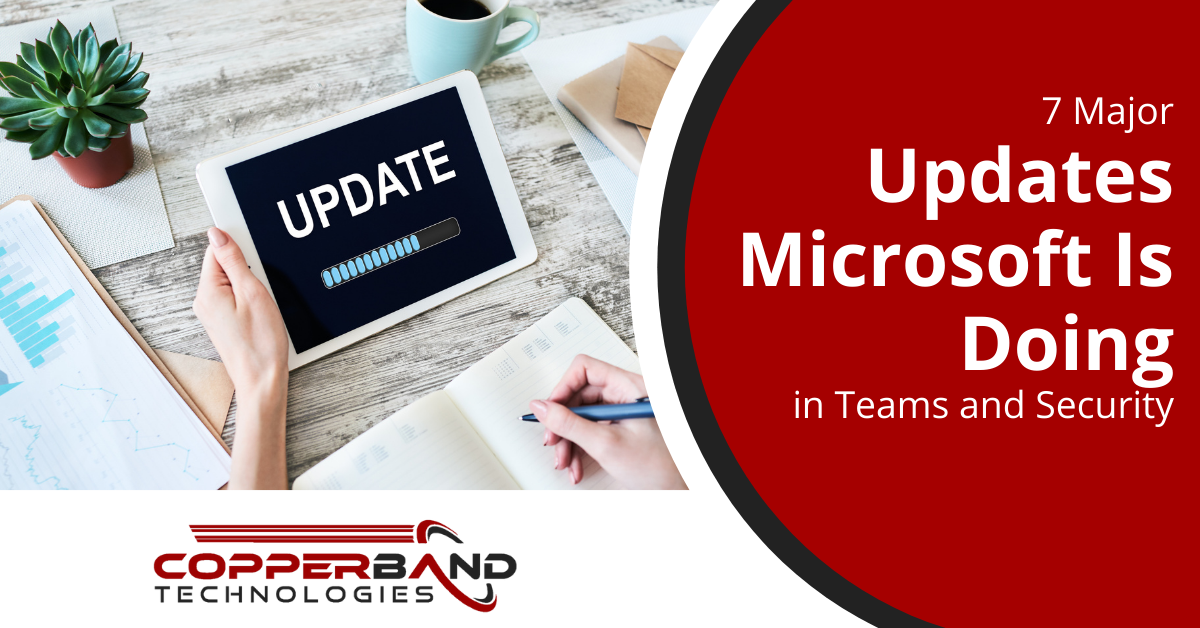 The use of Microsoft Teams has skyrocketed since the pandemic began. This all-in-one virtual communications hub went from 20 million users in November 2019 to 115 million in October 2020. With channeled chat communications, video conferencing, in-app document collaboration, and a VoIP add-on, Teams has become an indispensable cloud service for many businesses in Middle Tennessee and Southern Kentucky. However, with all that communication happening, security is a major concern. There is a lot of data shared in Teams that hackers would love to get their hands on.
This is one of the reasons that Microsoft continues to add security updates and new features to the platform. Another reason security has become an even bigger concern than before is due to the steep rise in cyberattacks during the pandemic. Phishing attacks rose 667% and the FBI saw an overall rise in cybercrime last spring of 400%. According to the Sophos 2021 Threat Report, ransomware has also continued to grow and become more dangerous as it has become a tool of large underground criminal organizations. To keep users secure when using Teams, Microsoft is making several major updates to address various data protections. Here's a rundown of several of those.
End-to-End Encryption for Teams 1:1 Calls
Teams 1:1 ad hoc VoIP calls have a new end-to-end encryption option. In other words, this feature provides additional security for sensitive conversations and improves compliance. However, parties on both ends of the conversation need to have the feature enabled by their Teams administrator. Additionally, both need to be opted in for the encryption to work. It will be available in preview the first half of this year for commercial customers.
New Teams Meeting Safety Controls
One of the unfortunate phenomena of the pandemic has been unauthorized parties crashing and disrupting video calls. Virtual meetings have become the norm due to COVID-19 and this has encouraged troublemakers to do "Zoom-bombing" (as it's been termed) to take advantage of that. Subsequently, Microsoft is adding some new control options to keep meetings held in Teams secure. These include:
Invite-only Lobby Setting: To help prevent gatecrashers, this setting will send anyone that wasn't specifically invited to the meeting into a meeting lobby instead of directly into the call. Then the meeting organizer can then choose to let them into the meeting or not.
Disable Video Feature: Coming this spring is a feature that allows the meeting organizer to better manage disruptions and distractions by disabling the video for any meeting attendees.
Chat Moderation Controls: Meeting organizers can limit unwanted chat during the meeting through chat moderation controls that allow them to enable or disable chat and decide when chat is turned on.
Safe Links in Microsoft Teams
Safe Links has been a feature in Microsoft Defender for Office 365 and now Teams is going to be able to leverage its protection. It is a system that scans email messages and other areas in Microsoft 365 for any malicious phishing links. To sum up, Teams is now going to have this capability to protect users from going to dangerous sites that do drive-by downloads of malware or are designed to steal login credentials. Additionally, Safe Links will scan URLs inside Teams:
Conversations
Group Chats
Channels
Above all, users will be warned if a link is found to be unsafe.
Ability to Co-Author Encrypted Documents
Co-authoring of documents using Office apps is going to be possible now. Multiple users can simultaneously edit any Office document that has been encrypted using Microsoft Information Protection. Moreover, the document will remain safeguarded and retain the same sensitivity label.
Sign-in Restrictions for Windows & Mac Managed Devices
This upcoming feature is expected in March 2021 and is to improve sign-in security specific to device settings. It will restrict Teams sign-in for managed Windows and Mac devices to ensure employees aren't signing in to another organization's tenant using those device credentials.
Customer Key Support for Data Encryption
This feature is currently in preview. It extends the capability of data at rest in Microsoft datacenters to be encrypted. Microsoft is adding the capability for customers to use their own keys for Teams data encryption. Similarly to the capabilities in Exchange Online, SharePoint Online, and OneDrive.
Call Recording for 1:1 PTSN Calls
A feature that is currently in development is the ability to record 1:1 calls from teams to landline phones (also known as PSTN – Public Switched Telephone Netowork – calls). This will be helpful in cases where sensitive calls need to be recorded for compliance or legal needs.
Is Your Cloud Security Where it Needs to Be?
Copperband Technologies can help your Southern Kentucky or Middle Tennessee businesses put strong cloud and communication security in place to ensure all your data is properly protected. Contact us today to schedule a consultation! Call 931.263.8000 or email us.
https://copperbandtech.com/wp-content/uploads/2021/03/resized-7-major-teams-updates.png
630
1200
Sarah Jones
https://copperbandtech.com/wp-content/uploads/2020/08/header-logo-1-1.png
Sarah Jones
2021-04-05 08:00:00
2021-03-24 13:33:39
7 Major Updates Microsoft Is Doing in Teams and Security