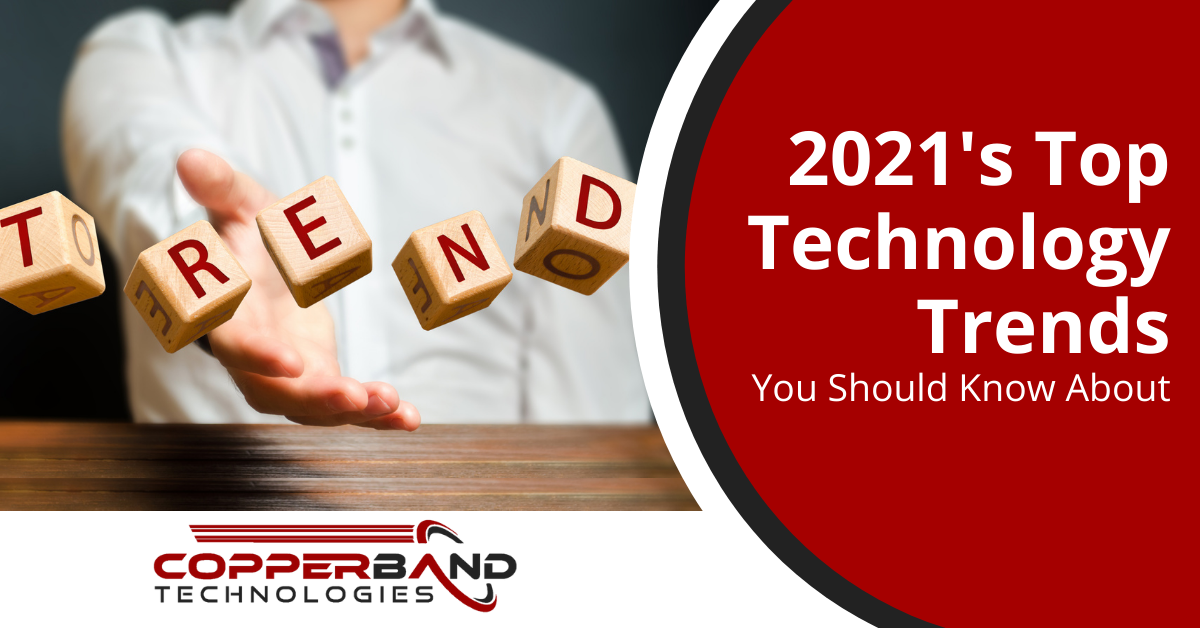 Heading into 2021, many Middle Tennessee and Southern Kentucky business owners are trying to anticipate where to focus their technology budgets. Staying ahead of any new technology advances and trends can mean the difference between playing catch up most of the year or jumping ahead of the competition. Technology continues to evolve all the time, and those that are ready to take advantage of the new efficiencies and cost savings these transformations bring have the advantage. According to a Deloitte study, small businesses that make good use of technology earn twice the revenue per employee as those that don't. What new trends are coming this year that you should prepare for? From integrated cloud solutions to cellular technology, here's what you should pay attention to in the coming months when planning your technology upgrades.
Customer Data Platforms (CDP)
Most businesses have now fully adopted cloud technology after going through a year of pandemic-related stay-at-home orders. But businesses have found that when the cloud isn't done properly, it can lead to waste. Subscriptions are started and then dropped after a lengthy data migration and training, companies have redundancies and duplicate apps, and data isn't always shared easily between cloud applications. Between 2018 and 2019, the average number of duplicate apps per company increased by 80% to an average of 3.6 duplicate apps.
One of the new technologies becoming popular to help streamline cloud app use and consolidate data is a customer data platform. These are applications designed to hold a database of all customer information, from sales details to contact information. Other applications then can tap into this one centralized database (CRM's, accounting tools, etc.) so they're sharing the same data. This reduces bad data from mistakes during manual entries into several programs and consolidates information to improve integrity and visibility.
Zero Trust Cybersecurity
Ransomware, phishing attacks and other cybercrime saw skyrocketing numbers in 2020. Many criminals took advantage of the pandemic disruption and deployed several COVID related attacks. Additionally, malware is becoming more sophisticated and employing the use of AI to be even more dangerous to a business. New variants are popping up regularly, making it difficult for 100% detection. Cloud security is also a major concern with so much data now being cloud-based. Instead of trying to detect malicious threats, cybersecurity is moving into a new phase. It's called "zero trust." With zero trust cybersecurity systems, tactics like white fencing are becoming the norm. This means instead of trying to identify the "bad guys" from a list that grows every second, you take the tactic of identifying the "good guys." Then, you grant those apps and programs permissions. This blocks everything else from the ability to execute scripts and actions.
5G May Finally Start Making a Difference
For a couple of years now, people have been waiting for the promised transformation of how we use the internet thanks to the speeds of 5G. But this hasn't yet materialized, because cellular service providers spent much of that time building out their networks. 5G is projected to be approximately 200x faster than 4G/LTE, and to basically eliminate latency, allowing for instantaneous connections. Now that many providers have completed the initial framework of these new 5G networks, expect to see some of that promise coming to fruition. Also look for more device manufacturers making technology that can tap into 5G cellular networks. It's a good idea for any device purchases going forward to look for a 5G connection capability as a feature.
Work From Home Becomes Permanent
During the pandemic, businesses around the country had no choice but to send employees home to work. While many have come back to their office, a large number of them are still working from home. This year, the number of remote workers working permanently from home is expected to double. A big reason for this is the increased productivity that's been realized. It turns out that when employees work from home and have less distractions, there are big productivity benefits.
Employers have also found that both they and their employees save money from a telecommuting arrangement. Additionally, last year showed companies that they have to be ready for anything, which means running their business virtually. So, building out that type of workflow keeps them protected for the next unexpected crisis event. Companies will be investing this year in permanent remote team infrastructures. This may mean purchasing WFH hardware (laptops, VoIP desk phones, etc.). Companies will also be putting network security and policies in place for permanent remote employees.
Prepare Your Business to Be On Top in 2021
Copperband Technologies can help your Middle Tennessee or Southern Kentucky business ensure that your operations and IT infrastructure are ready for what the future brings. Contact us today to schedule a consultation! Call 931.263.8000 or email us.
https://copperbandtech.com/wp-content/uploads/2021/02/resized-2021s-top-tech-trends.png
630
1200
Sarah Jones
https://copperbandtech.com/wp-content/uploads/2020/08/header-logo-1-1.png
Sarah Jones
2021-02-08 08:00:00
2021-03-14 20:47:53
2021's Top Technology Trends You Should Know About