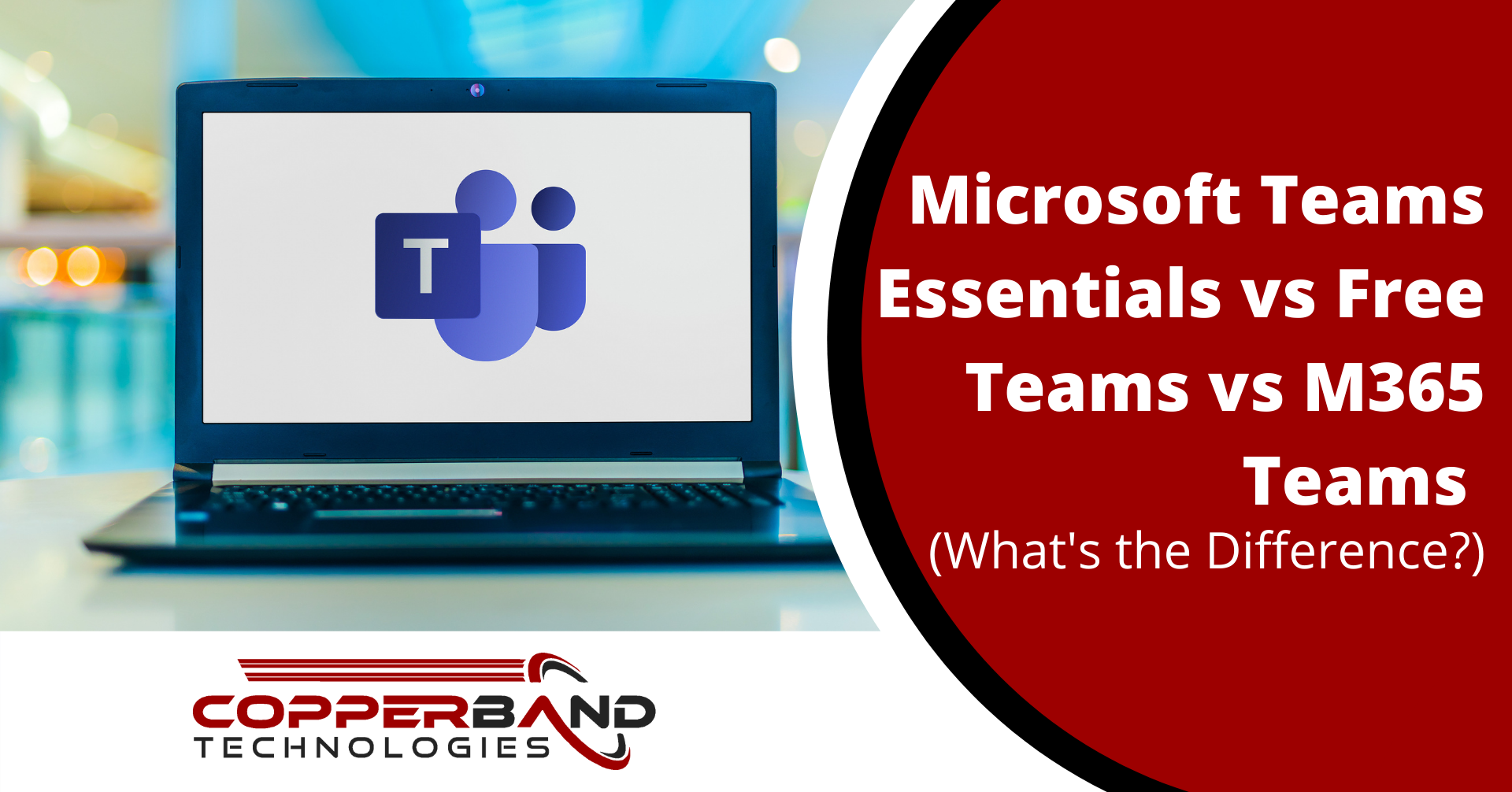 Until recently, there were only two types of Microsoft Teams: the free version and the version that comes with the corporate office 365 package. In December 2021, things changed. Microsoft made a big announcement: the launch of Microsoft Teams Essentials, a new variation of Teams aimed at small and medium-sized businesses. At Copperband Technologies, we're a fan of Teams. We think it's a great tool for businesses that work remotely or use a hybrid model. We're also pleased to see that Microsoft has introduced a version of its software specifically for the SMB market. This is something it had so far failed to do. If you're thinking about migrating to Teams, or wondering which package is best for you, then read on to learn more about Microsoft Teams Essentials and how it fairs against the Free and Enterprise versions.
Why has Microsoft introduced Teams Essentials?
During the pandemic, Microsoft Teams really came into its own. It became a communication lifeline for big corporations worldwide, enabling employees to collaborate remotely. For SMBs, though, Microsoft Teams' hefty price tag meant it was often out of reach. SMBs, instead, turned to applications like Slack and Zoom, which have similar functionality but are less expensive. We think that Microsoft has realized that it was missing out on an ample opportunity. SMBs are a considerable part of the business marketplace. Enter Microsoft Teams Essentials (aka: Teams for SMBs).
How is Microsoft Teams Essentials different from the other versions?
The enterprise-grade Microsoft Teams subscription comes within a broader Microsoft 365 package, giving you access to applications like Microsoft Word, PowerPoint and so on. The lowest priced M365 Business package costs $5.00 user/month. By contrast, Microsoft Teams Essentials is a standalone tool. It gives you access to Teams, but you don't pay for the 365 applications additions. We think that Microsoft has recognized that many SMBs use tools like G-Suite for documents and spreadsheets, which is the reason for this. The Teams Essentials package is $4.00 user/month. While this is only a dollar difference, the price variation quickly adds up if you have a lot of employees. In contrast to the free version of Teams, Microsoft Essentials also has some cool perks that don't come with the free version, such as:
Virtual backgrounds.

A meeting lobby for meetings that haven't started and Together Mode.

Twice more cloud storage than the free version

Video calls of up to 30 hours, containing 300 participants (the Free version only gives you meetings up to 60 minutes and 100 participants)
What are the advantages of Microsoft Teams Essentials?
Microsoft Teams Essentials is a great idea for SMBs that want to improve workplace collaboration from a distance. Benefits include:
Enhanced communication when working remotely
Research indicates that the two things employees struggle most with when working remotely are loneliness and difficulties collaborating. Teams Essentials can directly tackle these challenges. Teams make it easy for your employees to connect and communicate with chat and video functionality – almost as if they were in the same office. We also like that Teams has a real consumer feel to it. With gifs, emojis and chat functionality that humanizes digital conversations.
Facilitate real-time collaboration
Even as the pandemic slightly subsides, many companies are continuing to work remotely and will do so for the foreseeable future. While working from home has many positives, it can make it more difficult for employees to stay on the pulse of the latest announcements, changes, and team news. While email is great for formal communications, it can be disjointed and clunky for quick updates and chats. On the other hand, Microsoft Teams makes it straightforward for your people to share updates without going through the formality of email.
Onboard new employees easily
Joining a new company can be intimidating – especially when you're joining remotely. It's common for new employees to feel isolated when joining a company from afar. Teams, though, can make this experience more seamless and enjoyable. It's also super easy to set up Teams on new company devices, which is something our IT services team can help you with.
Is Microsoft Teams Essentials right for my company?
Ultimately, we think that Microsoft Teams Essentials is an excellent option for SMBs looking for a top-notch collaboration tool but don't want to pay for the whole Microsoft Office 365 suite.
Learn How You Can Leverage the Power of Microsoft Teams In Your Company
Are you taking advantage of all that Microsoft Teams has to offer? Copperband Technologies can help your southern Kentucky or Middle Tennessee business ensure you're not leaving any value on the table. Contact us today to schedule a consultation! Call 931.263.8000 or reach us online.
https://copperbandtech.com/wp-content/uploads/2022/02/resized-Microsoft-Teams-Essentials-vs-Free-Teams-vs-M365-Teams.png
630
1200
Sarah Jones
https://copperbandtech.com/wp-content/uploads/2020/08/header-logo-1-1.png
Sarah Jones
2022-03-21 08:00:00
2023-03-03 12:26:29
Microsoft Teams Essentials vs Free Teams vs M365 Teams (What's the Difference?)