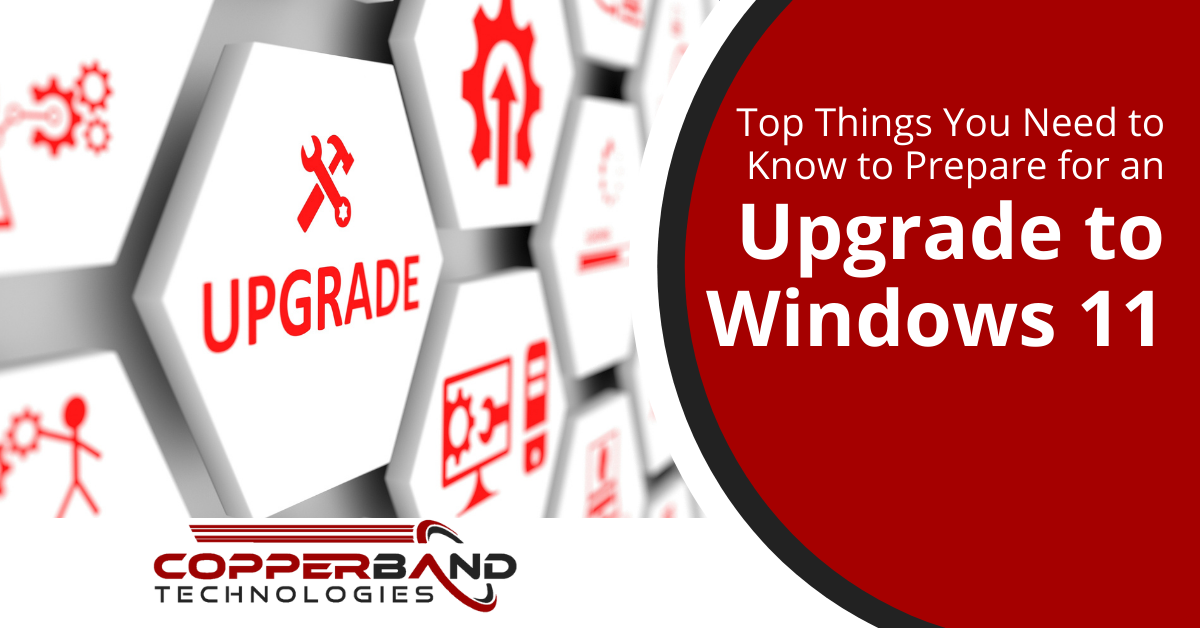 With Windows 10 more than halfway through its lifecycle, Microsoft has announced the upcoming release of Windows 11. Any time there is a major upgrade, such as a new OS, there is planning that needs to be done in advance so companies have a smooth transition without disruption of their technology infrastructure. If a business doesn't properly prepare for this type of upgrade, they can end up with unexpected downtime, confused users, and a hit to their productivity. Windows 11 has some great features that are designed to boost user productivity and make tasks easier, so the upgrade is one that companies will want to plan for.
What happens if you just stay on Windows 10?
If you don't upgrade when a new OS is released, you run the risk of:
Security issues down the line
Lack of ability to use new software or hardware optimized for the OS
Having to scramble to upgrade at the last minute when the old OS loses security support
Getting left behind your competition in capabilities
Missing out on improvements that could boost user productivity
Before you go through an upgrade to Windows 11, we have several things you'll want to consider below to ensure smooth sailing when the upgrade rolls out later this year.
Get Ready for Your Windows 11 Upgrade
Pre-Schedule IT Help for the Upgrade
As soon as Windows 11 becomes available, businesses throughout Kentucky and Tennessee will be grabbing upgrade spots and IT professionals' schedules will be filling up quickly.
Although we don't have a hard date yet as to when the OS will become available to the general public, you can touch base with Copperband now to do a tentative pre-scheduling to ensure you get the timing you'd like.
Most businesses will want to time a rollout when it's not busy or possibly over a weekend to reduce business disruption.
When is Windows 11 due out?
According to Microsoft, the rollout of Windows 11 is expected over the holidays in 2021 and into early 2022.
However, there's been a buzz in the PC world that it might be as early as sometime in October. According to CNET, some hints for an October release include the date "Oct. 20" showing in many of the press images for Windows 11 and a notice on Walmart's website that lists a "free upgrade to Windows October 2021 when available" on some laptops.
Check Compatibility for Your Devices
Windows 11 can be installed on multiple devices, PCs, tablets, etc. However, not all devices that use Windows 10 will have the specifications necessary to upgrade to Windows 11.
It's important to check your computers ahead of time to see which can upgrade and which may need to be replaced.
You can use Microsoft's PC Health Check tool, which is a free download, to quickly see whether a system meets minimum requirements.
Review Compatibility for Software & Hardware
Many businesses run custom software and it may require some updates to be compatible with the new operating system.
It's important to know which parts of your processes may need to be adjusted to accommodate the upgrade. If you need to have a developer update your custom software before it can be used on Windows 11, this is going to impact your upgrade timing, so it's important to have this all sorted out before the rollout.
Train Users on the New Features
Training users in advance can help prepare them to be ready to use the new features without loss of productivity. Update them on the new features so they'll know exactly what to expect when their desktop environment changes and how to take advantage of new time-saving features.
Some of the most exciting new features of Windows 11 are as follows.
Native Teams Integration:
Microsoft Teams is now going to be accessible from an icon on the taskbar. It's also designed to make instant video calls without needing to go into the full Teams application.
Snap Layouts:
Users can more easily arrange windows on their screens using snap layouts. This feature reduces the amount of struggling to resize windows so you can see more than one at a time.
It includes 6 preset layouts that can snap between 2-4 windows for an optimized view.
Customizable News & Information Feed:
A new widget-powered desktop feed uses Microsoft Edge to pull in weather, news, stocks, and other information. You can also add app previews for your calendar, to-do list, and more to save time.
New Streamlined Start Menu:
The Start menu icon is moving from the far left to the middle of the taskbar. When users open it, they'll see a more streamlined view with the search bar at the top. (It was previously on the taskbar.) This distraction-free view is meant to be easier to use and to get users to what they need faster.
Ensure You're Fully Prepared for a Smooth Windows 11 Upgrade
Copperband Technologies can help your southern Kentucky or Middle Tennessee business review your hardware and software to ensure they're prepared for Windows 11.
Contact us today to schedule a consultation! Call 931.263.8000 or email us.
https://copperbandtech.com/wp-content/uploads/2020/08/header-logo-1-1.png
0
0
copper_admin
https://copperbandtech.com/wp-content/uploads/2020/08/header-logo-1-1.png
copper_admin
2021-08-16 08:00:00
2021-10-05 15:52:15
Top Things You Need to Know to Prepare for an Upgrade to Windows 11