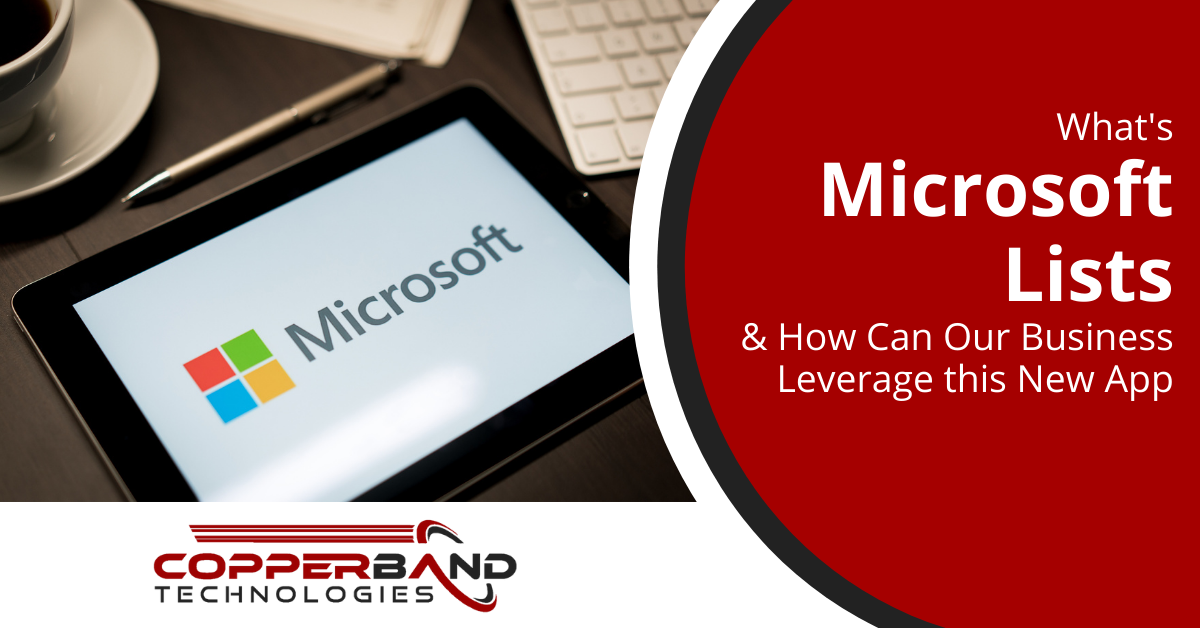 One of the advantages of any SaaS subscription over one-time purchase software is that you continually get updates included. This increases the value of a cloud solution by giving companies more features to use for the same subscription price. Microsoft is particularly generous when it comes to adding new features to Microsoft 365 regularly. Less than a year ago, thousands of free stock photos, icons, videos, and more were added to the service, and at the end of August, most subscriptions received a whole new application. Business and enterprise users that have a Microsoft 365 subscription with SharePoint were given Microsoft Lists as a brand-new available app.
What Is Microsoft Lists?
Think of all the list-based processes that you use regularly at your office – it's most likely more than you realize. List processes can include:
Lead & contact spreadsheets
Customer ticket resolution workflows
Lists of device assets and who they're assigned to
Project management task lists
Registration and sign-in lists
Those are just a few of them! Just about every spreadsheet that a company is entering data in manually involves some type of list. What Microsoft Lists does is improve these list-based processes by making them cloud-based, organized, automated, and collaborative.
Features of Microsoft Lists
There are several features that make Microsoft Lists more than just one thing. You can actually customize the interface in several ways that allows you to replace different apps – making it somewhat of a "super app." Here are some of the program's features:
Ability to view lists in several ways (grid/card view, data view, calendar view, etc.)
Collaborate with others on a list process
Add any fields that you need (date, assigned person, image, etc.)
Automate notifications when a list entry changes
Track list activities from any device
Integration with apps like Teams, Power Automate, and Power Apps
Multiple preset templates you can use and customize
Keep all lists accessible from a single place
Ways to Use Microsoft Lists to Improve Efficiency
Several list workflows are done manually, which can mean inefficiency and potential errors. Nearly 60% ofworkers say that automating a manual process could give them six or more hours extra each week. When looking at where Lists can have the most impact on your business, you want to consider these manual list-based processes that are either done in spreadsheets or on paper. Here are several ideas for how to use Microsoft Lists.
Task Management
Are you paying for an expensive task management program that is only used occasionally? If you already have Microsoft 365, you can save money by utilizing Lists instead. You can give tasks an assigned date, due date, and include the responsible person on each item. The automation in Lists allows you to get an email notification as soon as a task item changes to "done" or "delayed." Tasks can be viewed in a standard data view or in a calendar view, allowing you to get an idea of your overall project timeline.
Device Sign-Out List
Trying to keep track of which company devices are signed out to which employee can be time-consuming if you're doing this manually. Using the asset manager template in Lists makes it easy to keep track of all the devices in your organization and where they are located or assigned. The customization capabilities in Lists allow you to add a device photo, warranty information, and details on any connected accessories (like power cords).
Content Marketing Management
Another potential SaaS tool that Lists can replace is for managing content marketing schedules. You can easily share a list that includes content and images for social posts, designations for "draft" or "approved," and a calendar of when content is scheduled to go out.
Customer Ticket Tracking
Lists can also be used to track customer tickets as they come in. You can add details such as priority of the issue, who is responsible for addressing it, as well as cross reference other customer information, such as their last purchase. Due dates and automated notifications help keep everyone accountable and a manager can easily check up on ticket status themselves online without needing to wait on a follow up call to be returned.
Webinar & Event Registrations
Yet one more app that Lists can morph into is one that can keep track of webinar and event registrations. You can create columns for when an invitation is sent out, when a response is received, as well as other details such as attendee name and contact details. Because Lists can be opened inside Microsoft Teams, it's easy for an event team to review registration lists together while chatting in Teams during a planning meeting.
Get Help Making Full Use of Microsoft 365
Many middle Tennessee and southern Kentucky businesses are only using a fraction of the power of their Microsoft 365 subscription. Copperband Technologies can help you unleash the full productivity power of this platform, including its newest apps and features. Contact us today to schedule a consultation! Call 931.263.8000 or reach us online.
https://copperbandtech.com/wp-content/uploads/2020/10/What_s_Microsoft_Lists___How_Can_Our_Business_-_blog_post_50.jpg
934
1400
copper_admin
https://copperbandtech.com/wp-content/uploads/2020/08/header-logo-1-1.png
copper_admin
2020-11-16 08:00:00
2023-03-08 09:45:12
What's Microsoft Lists & How Can Our Business Leverage this New App?