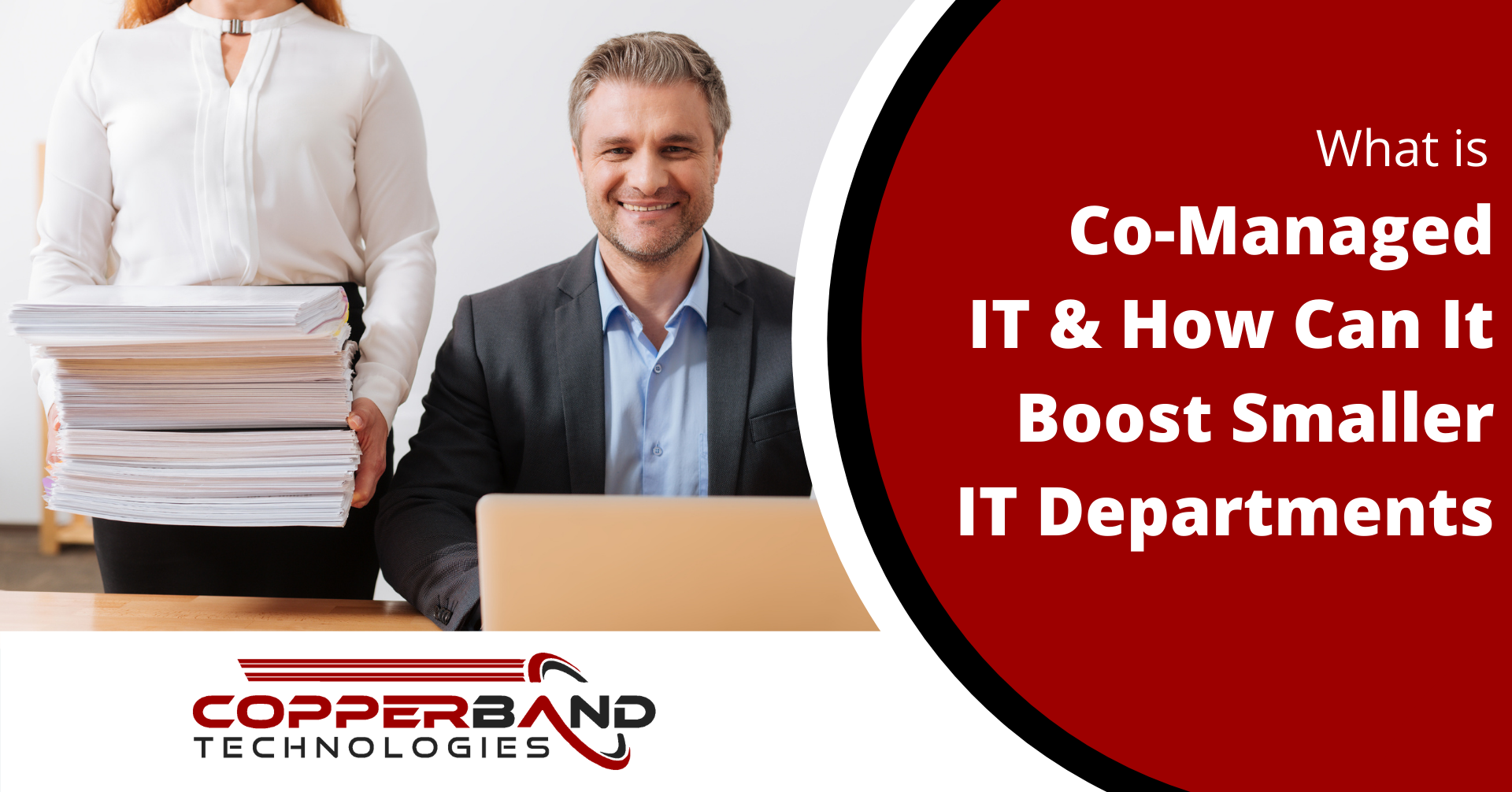 Not all companies are at either end of the technology spectrum – having a full team of IT professionals or having none at all. There are plenty of small and mid-sized Tennessee businesses that have a small team on their staff that take care of their computers and network. Technology and cybersecurity have become important aspects of any business, and most companies could not run properly without their IT running efficiently. That's why some businesses like to have at least one or two people on staff full-time that are dedicated to ensuring it's running smoothly. Beyond just staying competitive, companies that take full advantage of technology do better than those that don't. They earn approximately twice the revenue per employee and see higher revenue growth, as much as 4x as high. IT remains vital, especially when it comes to security and implementing new cloud infrastructure to stay ahead of the game. That's why many businesses look for the best of both worlds when it comes to their IT support. What this means is using co-managed IT to have both an in-house IT team and a professional support provider to help with the heavy lifting and more complex needs.
What is Co-Managed IT?
Co-managed IT is when a company's own IT department is supplemented by an outside IT professional that can help when needed. Managed IT services don't have to be a "one-size fits all" approach. Just because a business has their own in-house IT person or small IT team, doesn't mean they can't also take advantage of the tools, experience, and resources of a professional IT provider on an as-needed basis. Professional IT firms, like Copperband Technologies, can supplement gaps in experience and knowledge, as well as help in times of urgency (such as a ransomware attack). We can also provide a much needed helping hand when smaller IT teams are overwhelmed.
The Advantages of Setting Up a Co-Managed IT Relationship
Helps Fill Knowledge Gaps
A smaller IT department may run into knowledge gaps when faced with certain complex IT issues. Having a relationship through co-managed IT, your in-house team has an expert resource they can call for advice or ask to come in for an assist. This is particularly helpful when dealing with newer forms of ransomware and malware, which an in-house team may not have had a chance to research.
Allows You To Automate Certain Processes
Managed IT providers have special software they use to automate processes like patches, updates, and antivirus monitoring. By working in coordination with an IT provider, an in-house IT team can free themselves of those types of manual activities, allowing them to focus on user support and forward motion that helps grow your business through strategic use of technology.
Can Fill in During Vacations or Sick Days
One benefit of working with an outsourced IT provider is that they have a full staff that's available every day, throughout the day. When you have a smaller IT team on your staff, there will naturally be days when someone is out sick or takes vacation. You don't have to worry about having IT problems when your in-house team is out if you have co-managed IT, because you have a backup that can fill in when needed and that already is familiar with your technology environment.
Help During Emergencies to Reduce Downtime
If your business is hit with a ransomware attack or has a server that holds all your data crash, the crisis can overwhelm a smaller IT team. The longer your business is down, the more it's costing you, so every minute counts. Downtime can cost over $10,000 per hour for a small business. Having a relationship with a co-managed IT partner gives your IT department a much-needed resource to help during emergencies when your business is down to help you get back up and running as soon as possible.
You Have Someone Else That Knows Your IT
Employer/employee relationships can be complicated and sometimes employees may leave without any notice. If you have your IT person leave unexpectedly, it can leave you in a real bind if all your company's IT knowledge leaves along with them. When you use co-managed services, you have a team of professionals that can come in and take over your IT in the case of an unexpected departure by your IT person, until you find a replacement. This is an important factor for business continuity, so you're not left in a bind without any IT help.
Provides Needed Oversight
When you hire an IT team, you're relying on their stated knowledge and that they're trustworthy. They have access to your most critical systems, sensitive data, and how they are protected or accessed. By working with an outsourced IT provider through a co-managed relationship, you can have peace of mind that your in-house IT department has both help and oversight. Should an IT provider note anything amiss with how your IT is handled, either by accident or with ill intent, they'll let you know so it can be addressed.
Supplement Your In-House IT Team with Help from Copperband Technologies
Copperband Technologies enjoys working side-by-side with in-house IT teams. We can give them as much ongoing support as they need or be on standby should they need an assist. Contact us today to schedule a consultation! Call 931.263.8000
https://copperbandtech.com/wp-content/uploads/2020/10/What-is-Co-Managed-IT-_-How-Can-It-Boost-Smaller-blog-post.jpg
1867
2800
copper_admin
https://copperbandtech.com/wp-content/uploads/2020/08/header-logo-1-1.png
copper_admin
2020-10-12 08:00:11
2023-03-29 16:02:29
What is Co-Managed IT & How Can It Boost Smaller IT Departments?