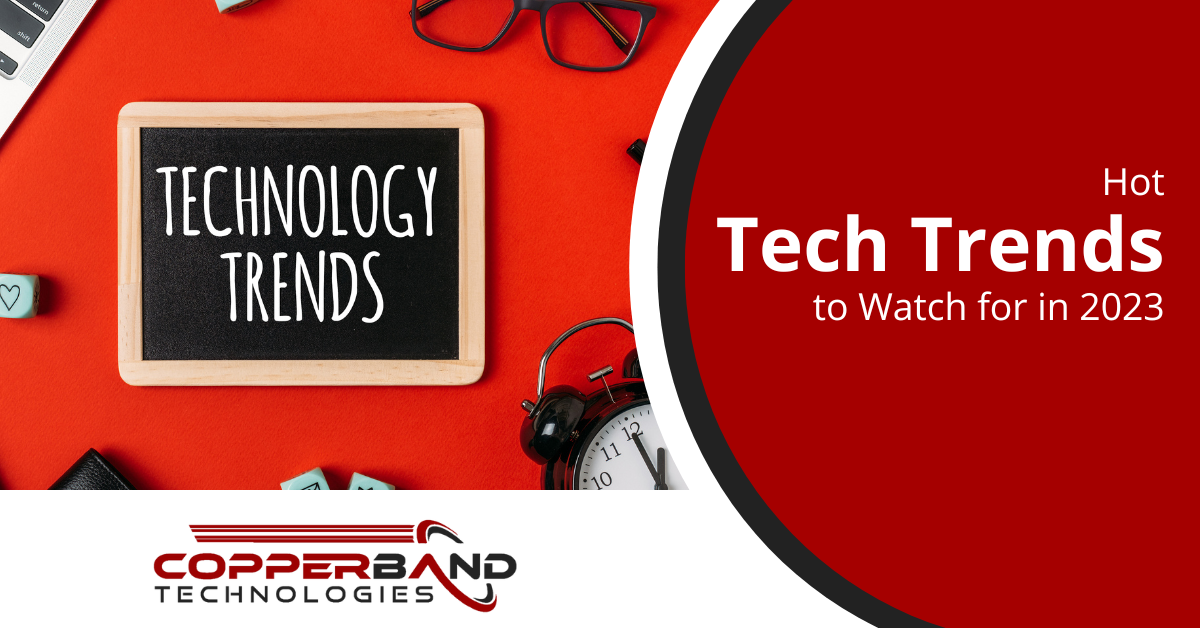 2022 has been a year full of extensive technological transformations. With more people in and out of the business world leveraging technology to stay connected both professionally and personally, pressure for more innovative technology needs has skyrocketed. Today, technology is advancing and evolving at a very fast pace. What does this mean for your business? It means that to maximize the benefits of every piece of new technology, with technical support, staying current with the hot and emerging tech trends will secure a place for you in the business world.
It will help boost productivity and bring about significant changes in industry requirements and customer expectations. A few ideas come to mind when it comes to tech trends that would dominate in 2023. They include AI, Metaverse, AR/VR, IoT, and more. According to a source, Gartner predicts that by 2023, 60% of mainstream organizations will become composable enterprises. Additionally, companies that adopted the composable approach will outpace competitors by 80% in the speed of new tech implementation. As a result, there are so many hot tech trends to look out for in 2023.
6 Hot Technology Trends to Look Out for in 2023
Here are 6 top tech trends to look out for. It is recommended to always look into new tech trends during a year-end tech review.
Internet of Things (IoT) Hyper-connected
This technology has existed for years, yet it is still one of the most promising new tech trends. IoT is the future and quite literally ties all other technologies together. The focus on IoT continues to grow, bringing about new innovative devices and enabling more complex and useful machine-to-machine interactions. Businesses have so much to gain now and in the future with IoT. These benefits include
Better efficiency, safety, and decision-making as data is collected and analyzed

Saving costs in production

Enabling predictive maintenance and improved customer services.

Detecting new business opportunities and customer trends.

Creating a massive web of interconnected devices.
And so many unimaginable benefits.
Wireless value realization
This next-gen tech will improve and boost connectivity. It will also boost the optimization process for lower costs, fewer risks, higher reliability, and increased productivity. Gartner coined wireless value realization, describing the various ways next-gen wireless technologies will reduce capital costs and deliver and improve services. Wireless-value realization is the expansion of use cases that utilizes continual improvements in wireless capabilities. Different wireless techs will work connectedly on a single infrastructure and use various capabilities to simplify the shift toward digital and tech transformation.
Superapps
Superapps are new evolutions in the digital app market. It is an all-in-one platform where users (customers, partners, or employees) have access to all services they need in one place. These superapps are intended to serve as a foundation for users to activate a small ecosystem for consistent and personalized app experiences. This eliminates the need to download other apps and learn how to use them effectively. Superapps are built on a platform that offers several features utilized in other apps, such as messaging and payments. Eventually, superapps will support chatbots, IoT technologies, and immersive experiences like the Metaverse. Also, compared to single-purpose apps, these apps will provide value to business owners, employees, and people from all walks of life.
Metaverse
This tech trend is now a recurring subject in any tech conversation about future technologies. The Metaverse is a virtual environment we will enter using several tools to make it appear as though we are indeed within it, engaging with every component of it. Through the use of virtual reality goggles and other devices, it will be similar to teleporting. It will allow us to interact with the new environment. Experts predict that 2023 will be the defining year of the Metaverse for the next decade. Furthermore, by 2023, the Metaverse will add $5 trillion to the global economy.
Though still in its development stages, the move to the Metaverse is anticipated to change how we work, conduct business, interact with customers, shop, and more. Some of its capabilities are being seen as many businesses are already trying out the Metaverse to build innovative value exchanges, revenue streams, and marketplaces by connecting, engaging, and rewarding both human and machine customers.
Adaptive AI
Many businesses are adopting AI systems to enhance their customer service. They can also improve productivity, design self-sufficient and intelligent solutions, and boost their place in the competitive market. However, here is a tech trend that will take it a step further, going beyond the traditional AI and ML model. Unlike traditional AI systems, adaptive AI uses a flexible and enriched approach to monitor and learn from various changes. It can update its code to account for changes in the real world that were not anticipated or known when the code was written. This, therefore, will help businesses build resilience and adaptability into their designs. They will also be able to react to disruptions better.
Sustainable Technology
Recently, many companies have made numerous changes to their business and are putting more focus on optimizing and automating processes, migrating to the cloud, reducing and tracking omissions and emissions, etc. What if technology provides a way to track metrics to monitor social governance and minimize carbon footprint, and support environmental laws? Thanks to various techs such as Blockchain, AI, robotics, and many more, businesses can create a sustainable technological future. And they won't have to sacrifice productivity, efficiency, or growth. Sustainable technology drives ESG results. For example, increasing wellness and providing the traceability necessary to assure ethical company operations and operational outcomes like optimizing costs, energy performance, and asset usage.
Want to develop your business to its full tech potential?
Whether you are looking to optimize your business with a specific technology or want to implement a full tech and digital transformation, at Copperband Technologies, we are always up-to-date with new tech trends that emerge. Contact us today to schedule a consultation! Call 931.263.8000 or reach us online.
https://copperbandtech.com/wp-content/uploads/2022/12/resized-Hot-Tech-Trends.png
630
1200
copper_admin
https://copperbandtech.com/wp-content/uploads/2020/08/header-logo-1-1.png
copper_admin
2023-01-02 08:00:00
2023-02-27 14:43:55
Hot Tech Trends to Watch Out for In 2023