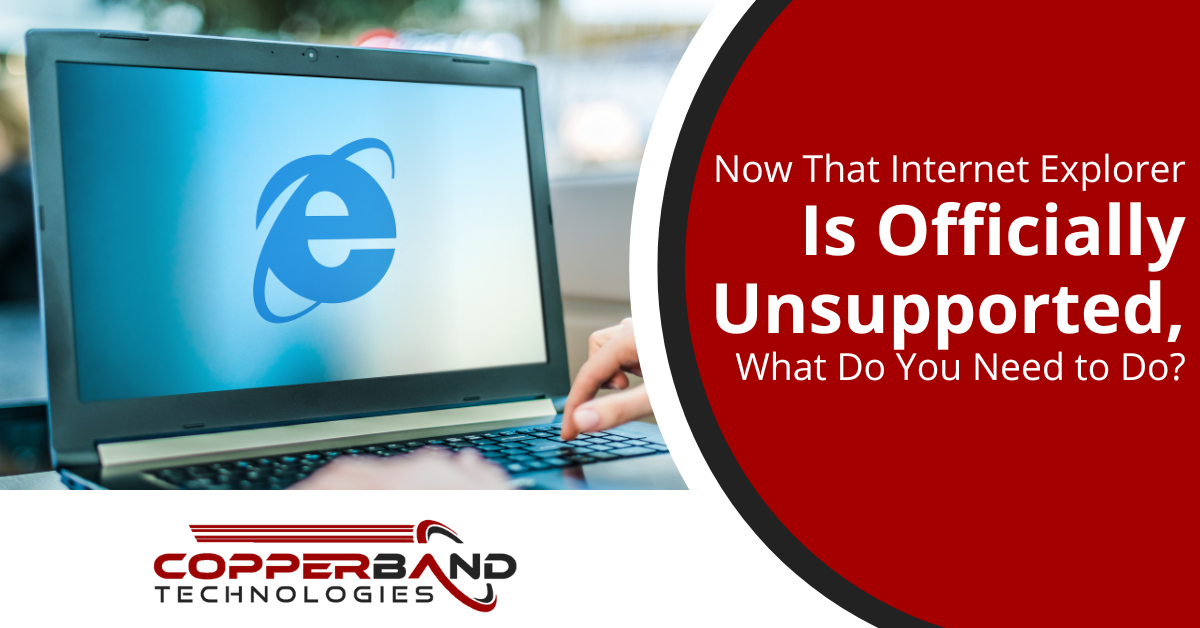 Microsoft officially ended support for Internet Explorer on the 15th of June 2022. The Redmond-based corporation is saying goodbye to an era with this move. However, it also has genuine repercussions for individuals still using the nearly three-decade-old web browser. Many users have probably stopped using Internet Explorer by this point. More than a year ago, Microsoft announced that it would discontinue Internet Explorer in June which served as a cue for many that it was time to try a different browser. However, individuals who were not yet ready to go or did not want to give up using the accustomed browser had the choice taken from them from the 15th. Any attempt to launch the desktop version of Internet Explorer will immediately switch you to Microsoft Edge.
How Can Businesses Browse Safely?
Downloading Microsoft Edge is, in Microsoft's opinion, the easiest way to replace Internet Explorer. The simplified search engine appears to be a straightforward substitute and is currently adopted by 10.63 percent of desktops globally, making it the #2 browser. Users unhappy with the browser's departure or companies that still need to access legacy websites can access the platform using IE mode on Microsoft Edge. Apart from switching to Edge or another alternative, update your device to the latest version of Windows. The update gives you access to Microsoft's latest security patches.
Three Reasons to Switch to Microsoft Edge
1. Improved Compatibility
You benefit from Microsoft Edge's dual-engine advantage, which supports old and new websites. For websites and programs that still need Internet Explorer, IE Mode provides built-in support. Microsoft Edge is the only browser with built-in support for websites and programs that were once built with Internet Explorer, including ActiveX controls and other features. Because Microsoft Edge is based on the Chromium project, which drives many of today's browsers, it offers top-notch compatibility for new websites. You benefit from the best of the web's history and future thanks to the dual engine advantage.
2. Streamlined Productivity
It can be irritating to have to use several browsers for specific jobs. Even if you want to stick with a more recent browser, some websites and business applications may only function in Internet Explorer. Microsoft Edge can help in this situation as it streamlines your productivity. Microsoft Edge can now be used exclusively, eliminating the need to utilize different browsers for different sites. Internet Explorer has no new, contemporary capabilities that Microsoft Edge offers.
Is your computer slowing down because of multiple taps? Free up resources by using the Sleeping tabs. Reposition tabs using vertical tabs to make them easier to read. You can even spruce up your Favorites, so it contains more than just links, thanks to Collections which makes it simpler to gather and arrange data you find online. Do you enjoy switching between multiple browsers for work and personal use? In Microsoft Edge, experiment with creating various profiles before using them exclusively.
3. Better Browser Security
Did you know that there are roughly 579 password attacks every second? Fortunately, having a solid browser helps with such attacks. Microsoft Edge comes with Microsoft Defender SmartScreen, which provides security against malware and phishing assaults. Additionally, it gives Password Monitor, which searches the dark web for signs that your personal information has been hijacked. Microsoft Edge is even more beneficial for enterprises because of integrations with the Microsoft 365 security suite. Microsoft Edge must be more responsive to security flaws, given the evolving nature of the security landscape today.
Other Alternatives to Internet Explorer
Google Chrome
Chrome has enormous popularity. It is the most widely used web browser on the planet. The Google browser is speedy, accessible on many different devices, and relatively simple to set up. Additionally, the consistent experience across multiple devices makes Chrome the preferred web browser for many users over Microsoft Edge, especially those using an Android phone or a Chromebook.
Firefox
The only non-Chromium-based browser in this group is Firefox, but most users won't notice a difference in how they use it. However, Firefox's most recent update, which they deployed in 2021, will significantly influence it. This update improves privacy safeguards, media autoplay, and tab functionality.
Safari
Safari is Apple's standard browser for Mac PCs, iPhones, and iPads. In the desktop market, it just lost the #2 spot in popularity to Edge, but when looking at browsers across all devices, it's still right behind Chrome in market share. However, Windows users might not find it as convenient or easy to use as Mac and iOS users. Edge would be the more logical option for those using Windows. At Copperband Technologies, your security comes first. Reach us via our contact form or call us at 931-263-8000.
https://copperbandtech.com/wp-content/uploads/2022/08/resized-Now-That-Internet-Explorer-is-Officially-Unsupported.png
630
1200
Sarah Jones
https://copperbandtech.com/wp-content/uploads/2020/08/header-logo-1-1.png
Sarah Jones
2022-08-01 20:00:00
2023-03-13 08:28:14
Now That Internet Explorer Is Officially Unsupported, What Do You Need to Do?