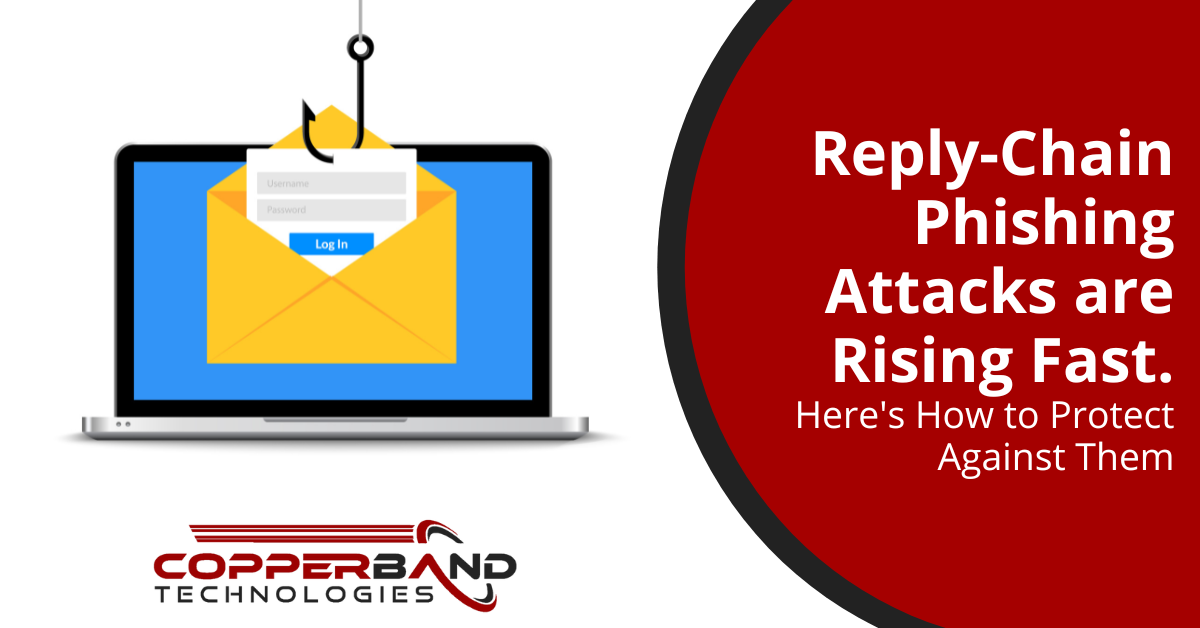 As technology gets sophisticated over time, so are cybercriminal tactics increasing in their numbers. One new phishing issue is that smishing is becoming a problem, and reply-chain phishing attacks are another major cybersecurity headache to worry about. The real danger in reply-chain phishing attacks is their authenticity. A report states that the Canadian Anti-fraud Centre says companies lose about $5 billion globally due to Business Email Compromise (BEC) fraud. As these fraudulent activities become rampant, organizations witness reply-chain phishing attacks in various forms and sizes. Criminals gain access to email accounts through compromised means. Then, they monitor the email correspondence for a while and get the most suitable time to launch an attack.
The threat actor capitalizes on the ignorance of email participants to insert malicious links into the email conversations. The effect of this is that it results in a security breach. With mass spoofing emails, there is always a grammatical error that makes it obvious. But this is not the same for the reply-chain phishing attacks. As against other forms of attacks, the reply chain phishing attacks lack many warning signals. This is because the hacker has the benefit of being able to read through an email conversation. This allows them to more convincingly reply to the recipients on that email reply chain and use as few words as possible to give them away. Here, we'll show you how to protect your organization from becoming victims of reply-chain phishing attacks.
What To Do If You Hae Received a Suspicious Mail
Considering that most scammers employing this tactic use legitimate email addresses to carry out their deeds, you must take the following steps to stay protected:
Do not be in a hurry to reply
If you receive an email from someone you know requesting financial or personal information, do not respond. Contact the individual in person to verify if they asked for such information. Their response will determine your next line of action.
Please do not click on links
When you see any links in your emails, do not click on them without verifying them first. Some of these links can download malware into your device.
Don't open attachments
If you get an attachment in an email, do not click on it, especially if you are not expecting any. Alternatively, you can confirm from the sender if s/he included any attachment.
Report
Most importantly, report any message that does not seem genuine to you.
Delete messages
Delete them immediately if you've confirmed that the messages in your email are not genuine or from the person they seem to be from.
What To Do If You Have Responded to a Scam Email
Even the most careful and detailed individuals can become victims of reply-chain phishing attacks. The absence of common warning signals makes it very difficult to detect. So, if you notice that you have responded to a wrong email, do not panic. You can take specific steps to stop the hackers right in their tracks before they manipulate your information. Some of these steps are:
Contact your financial institution
As soon as you realize that you have responded to a scammer, contact your bank. Inform the financial department of the content of the mail and the response you provided as well. This will make it easier for the appropriate authorities to stop any activity jeopardizing your reputation. It is also paramount to emphasize that every second you spend arriving at a decision can bring you to ruins. So, act fast!
Alert Your Company
The faster your organization knows that your PC or email address may be compromised the faster it can deploy safeguards. Additionally, if this is a case of reply-chain phishing, the person whose email address was compromised may not even realize it. Steps need to be taken to change that account password.
What To Do If You Have Provided Your IT Information
If you've participated in a long email thread, you may have had reasons to discuss IT issues. Scammers leverage trust to carry out reply-chain phishing attacks. They are primarily dependent on previous email conversations between individuals. Now, because the scammer has waited a long time to strike, s/he probably understands the thread of this conversation. So, they may decide to use it to their advantage. However, if you've provided important IT information to the scammer, such a person may freeze your account and disable proof that shows that the account has been hacked. The following steps come in handy if you find yourself in this unpleasant situation:
Contact IT center
Inform the IT help center of the situation and the response you sent. The IT department will spring into action to rectify the problem or minimize the damage.
Change your passwords
There are chances that the scammer may attempt to manipulate your online accounts. So, you must change all the passwords to these accounts, especially if you had previously saved them online.
Prevention and Protection with Copperband Technologies
Do you consider the reply-chain phishing attack insurmountable? Copperband Technologies can help your Southern Kentucky or Middle Tennessee business prevent these types of attacks. Contact us at 931.263.8000 or reach out to us online.
https://copperbandtech.com/wp-content/uploads/2022/07/resized-Reply-Chain-Phishing-Attacks.png
630
1200
Sarah Jones
https://copperbandtech.com/wp-content/uploads/2020/08/header-logo-1-1.png
Sarah Jones
2022-07-25 08:00:00
2023-02-27 14:42:44
Reply-chain Phishing Attacks Are Rising Fast. Here's How to Protect Against Them