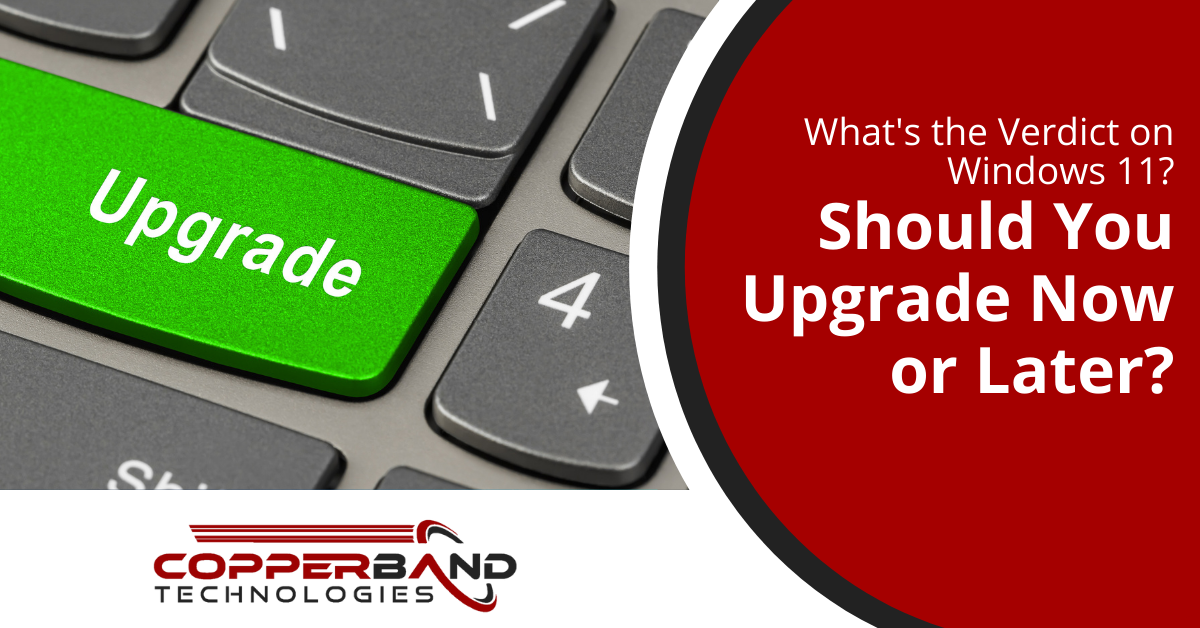 The newest update to the Microsoft Windows operating system (OS) has been out for over two months now. That's enough time to get a feel for how Windows 11 is being received. There's always a timing decision to be considered when any major update like this comes out. Companies need to weigh the stability of a new OS with the productivity benefits of upgrading. Many companies shy away from upgrading until years after an updated operating system version has been released. But this can leave them at a disadvantage for a few reasons. These include:
Users can miss out on productivity-enhancing features

They can start to run into compatibility problems with other software updates

They may have to rush to upgrade before the older OS loses security update support, or risk leaving their devices exposed
But companies also don't want to upgrade too soon, before any major bugs have been worked out. This could cause them to risk downtime or loss of productivity, requiring immediate technical assistance. The information below on how Windows 11 has been received to date should help your company make an informed decision on your timing.
Considerations for Timing Your Upgrade to Windows 11
There Haven't Been Any Major Bugs Reported
While there are some bugs that came along with the Windows 11 release, these have been fairly minor. They include specific software compatibility issues, such as an issue with Oracle VirtualBox. The also include things like network printing problems, which have now already been resolved. The release has been widely well-received due to it only having minor issues reported so far, which is good news for organizations wondering when they should upgrade.
The Interface Doesn't Involve a Big Learning Curve for Users
Windows 11 is not an upgrade that completely changes the look of the desktop. So, users won't have a big learning curve once their PC is upgraded from Windows 10 to Windows 11.One of the biggest differences is that the Windows Start key has been moved from the far left to the middle of the taskbar, which may take users a few days to get used to. The start menu has been streamlined. This makes it even more intuitive for users because unnecessary components have been removed, like all those app groupings.
One New Feature Doesn't Work Great (Widgets)
While many of the features rolled out are a big bonus for user workflow, one, in particular, hasn't yet lived up to expectations.The widgets panel which is accessed from an icon on the taskbar can be slow to load. It also doesn't have many widget apps to choose from, especially for productivity. Additionally, users have run into problems connecting their Outlook email to the email widget.
There Are Some Significant Time-Savings Features Added
One of the best timesaving features that users will love in Windows 11 is snap layouts. This allows you to snap between 2-4 windows into an optimized view on your screen so you can work in all at the same time. This resolves a frustration many people have with trying to work in two windows side-by-side. They spend time getting them sized just right, only to lack the ability to access scroll bars and menu items. In these optimized views, users can access menus and scrollbars. They can also easily maximize one of the windows in the layout and then return to the snap layout group easily to get back to the multi-window view.
Another handy feature is the new native integration of Microsoft Teams on the taskbar. Virtual meetings and team messaging have become the norm since the pandemic, and this feature makes it easier than ever to reach out to someone. You can message, call, or video chat with anyone (they don't have to be a Teams user). When you first access Teams on the Windows 11 desktop, it will even ask if you'd like to import your Skype contacts. Just click to start a conversation, without needing to open the full Teams app, unless you want to. The capabilities include being able to screen share during calls.
Another gamechanger will be welcomed by many users that did not have a phone they could pair with their Windows device for desktop texting. Using Teams, you can send and receive text messages simply by entering someone's mobile number. This eliminates the need to grab your phone if you need to send or read a new text. For those that hate typing on tiny cellphone screens, the ability to text from the desktop will make a big difference in their workflow.
Schedule Your Company Upgrade to Windows 11 With Copperband
Copperband Technologies can help your southern Kentucky or Middle Tennessee business plan and implement a smooth upgrade for your user PCs to Windows 11. Contact us today to schedule a consultation! Call 931.263.8000 or reach us online.
https://copperbandtech.com/wp-content/uploads/2022/01/resized-Whats-the-Verdict-on-Windows-11.png
630
1200
Sarah Jones
https://copperbandtech.com/wp-content/uploads/2020/08/header-logo-1-1.png
Sarah Jones
2022-01-24 08:00:00
2023-02-27 14:08:32
What's the Verdict on Windows 11? Should You Upgrade Now or Later?