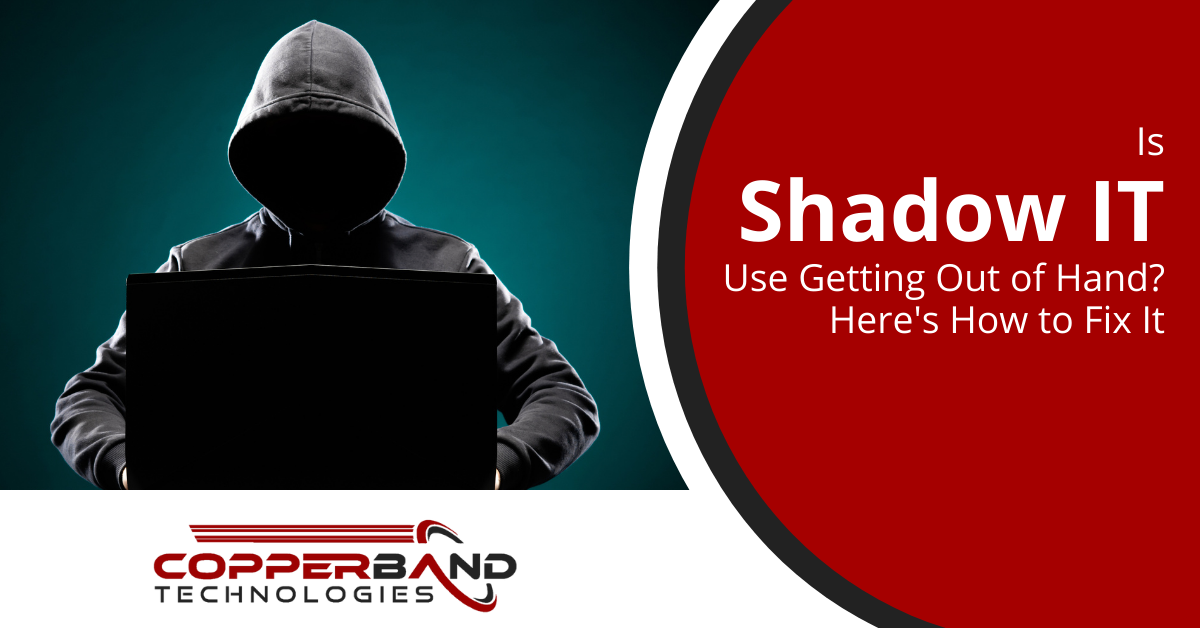 Do you know all the apps your employees are using? It's become harder for companies to keep unauthorized cloud use under control due to the increase in work-from-home (WFH) staff. When working from home, employees are often using their personal computers. When disconnected from the office, staff also often feel freer to explore new work tools. While in most cases the use of unauthorized applications for work (known as Shadow IT) is done in an effort to be more productive, it actually increases the risk to a company. 47% of surveyed IT security professionals say Shadow IT is a major risk to data security.
If a company is unaware that its data is being stored in unknown cloud accounts, some of the risk factors include:
Data may not be secure
The data flow is disconnected from the company's authorized cloud environment
The employee could leave the company and data could be left in an unknown account
The cloud tool might have a data breach, but the company would be unaware
The company could be paying for redundant cloud services
It's estimated that the use of unauthorized cloud applications is 10X higher than authorized cloud services. This poses a big problem not only for security but also cloud budgets, with 20-40% of technology spend now being outside the IT team's purview at many enterprises.
Using the steps below, you can get a handle on shadow IT use at your company and actually turn it into an opportunity to improve your overall cloud infrastructure.
Steps to Getting Shadow IT Under Control
Create a Cloud Use Survey
You can gain some benefit by surveying employees about all their cloud tools. This allows you to do two important things:
Learn about any apps being used for work
Gain insights that can help you improve your cloud infrastructure
Create cloud use survey that includes questions such as:
Please list all applications that you use for any work data (both authorized and those you found on your own)
List the top 3-4 work applications that are the most helpful to you
List the bottom 3-4 work applications that are the least helpful to you
What applications would you like to be using?
Survey Employees – But Don't Make it Sound Punitive
Next, send the survey to your employees. It's important to emphasize that this is meant to optimize the company's cloud environment. Its purpose is to make it better for everyone, not as a punitive measure to punish people. If people think they're going to get in trouble by using unauthorized apps, they may not list those apps on the survey.
You can make the survey process easier and more automated by using a tool like Microsoft Forms. It collects responses online and collates them for you.
Review Employee Input on Cloud Use & Update Your Business Apps
Review the input from your team and use it to make your cloud environment more efficient. Is there an expensive application that you thought you had to provide, that most employees don't find helpful? Is there a great application that an employee has been using that would make everyone more productive?
Look at all the surveys and from employee input as well as advice from your IT partner, and adjust the cloud applications in your infrastructure accordingly.
Create a Strategy for Rolling Out the Updated Cloud Environment
Any time you make changes to the workflow of your team, it's important to do it methodically and have a rollout plan. This includes training your team on the new tools and workflows as well as sharing the survey results and reasons why you're adjusting the tools they'll be using each day.
Knowing why a change is happening and how it will benefit them, helps to reduce employee resistance when you make a transition in any tools or processes.
Close Any Unused Cloud & Shadow IT Accounts
Completely close out any cloud accounts for applications that you are dropping from your workflow. You'll want to first export the data so nothing important is lost. It's also a good idea to have your accounting department keep an eye out for any accidental charges after an account has been closed.
Create & Educate Employees on a Cloud Use Policy to Keep Shadow IT in Check
To keep shadow IT from becoming a problem again, you'll want to put a cloud use policy in place that specifically restricts the applications that company data can be used with.
You also want to give employees a path to make cloud application recommendations and do annual cloud use surveys to continue optimizing your cloud infrastructure.
Get Help Shaping Your Cloud Environment for Productivity & Security
Copperband Technologies can help your southern Kentucky or Middle Tennessee business with multiple cloud services designed to boost productivity and security, as well as save you money.
Contact us today to schedule a consultation! Call 931.263.8000 or email us.
https://copperbandtech.com/wp-content/uploads/2021/10/resized-Is-Shadow-IT-Use-Getting-Out-of-Hand.png
630
1200
copper_admin
https://copperbandtech.com/wp-content/uploads/2020/08/header-logo-1-1.png
copper_admin
2021-10-19 08:00:00
2021-11-03 19:33:55
Is Shadow IT Use Getting Out of Hand? Here's How to Fix It