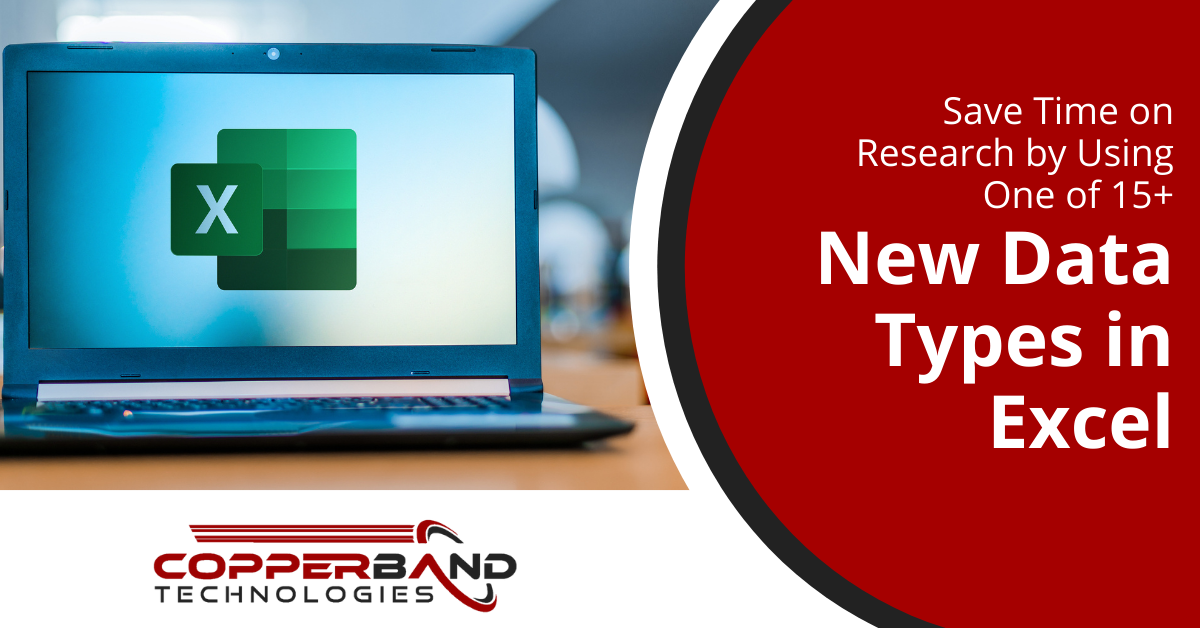 Platforms such as Microsoft 365 are making feature updates all the time. Some of them are more impactful than others. For example, a slight tweak to a search bar might be nice, but not make a huge productivity impact. On the other hand, some cloud solution updates can be game-changers when it comes to the time spent on a specific type of task. The new data types recently added to Excel are one of those game-changers. Imagine that you need to review different terrain statistics for a construction planning job. You can spend hours or even days searching for details on elevation, east-west profile, longitude and latitude, and more. But if you use the "terrain" data type in Excel, that information can all be populated at the click of your mouse.
What Are Excel Data Types?
Data types in Excel connect a classification of data to a database of information. Once you tell Excel what type of data you're working with, it can serve up all types of statistics related to that information that you can populate for an entire list of data at one time. Excel offers over 15 different classifications of data that can be used by a wide variety of industries, including:
Accounting & financial

Education

Municipal & local government

Architecture & engineering

Dental & medical

Hospitality

Construction

And many more
Use Case for the Foods Excel Data Type
To give you an example of how this feature in Excel can save you a lot of time, effort, and money, we'll go through a potential use case. Say you are creating a menu for a new health-conscious restaurant and you want to include all types of nutritional information on things like calories, percent fiber, etc. You can pay someone to spend a lot of time looking up a variety of nutritional facts, or you can build an entire nutritional profile for your menu in a matter of minutes. Here's how you'd do that:
Open Excel and type in your list of ingredients

Highlight the data and click "Data" in the top menu

From the "Data Types" window, scroll to find the "Foods" data type and click on it.

Now, you'll see an icon show up indicating the data type. In the case of "Foods," it's an apple.

Highlight all the cells with your different foods, and you'll see a small "data" icon show up at the top-left of the first cell selected.

Click that to open your database of data options that match your data type.

Choose the one you want from the list. It will populate into the next empty column on the right.

You can do this to bring in multiple points of data.
Now, you're able to see all the nutritional information you need, and you didn't even have to open up Google! The data populates all at once for all the cells you have highlighted. From there, it's an easy formula to use the "common serving" cell to calculate the percentage of that ingredient in your recipe and then convert the values accordingly.
Choosing Between More Than One Option
If Excel doesn't recognize the text that you input as related to the data type you chose, or if there is more than one option for your data type, you'll see a panel open on the left. There could be two options for the item, and you'll be asked to choose the one you want, so Excel can give you the right data. If you don't get a selection option, then you may need to rethink how you described the item and change the name, so it's recognized by the data type database.
Data Type Options
The current data types in Excel cover a wide range of subjects, many of which can significantly reduce research time for reporting, planning, creating product data sheets or literature, and multiple other business tasks. You can find descriptions of each data type here. It's amazing how a simple workflow change enabled by a new cloud feature can completely change the way you do things for the better. You get more information at your fingertips and can significantly shortcut the data collection/searching process. When using data types in Excel, you'll find the following options:
Anatomy

Animals

Chemistry

Cities

Currencies

Foods

Geography

Locations

Medical

Movies

People

Plants

Space

Stocks

Terrain

Universities

Yoga

Automatic (detects things like books, media, and more)
Optimize Your Workflows With Help from Copperband!
Copperband Technologies can help your southern Kentucky or Middle Tennessee business uncover the hidden potential in the apps you use and improve your workflows for better efficiency and time savings. Contact us today to schedule a consultation! Call 931.263.8000 or email us.
https://copperbandtech.com/wp-content/uploads/2021/06/resized-Save-Time-on-Research-by-Using-One-of-15-New-Data-Types-in-Excel.png
630
1200
Sarah Jones
https://copperbandtech.com/wp-content/uploads/2020/08/header-logo-1-1.png
Sarah Jones
2021-06-28 08:00:00
2021-06-04 19:44:30
Save Time on Research by Using One of 15+ New Data Types in Excel